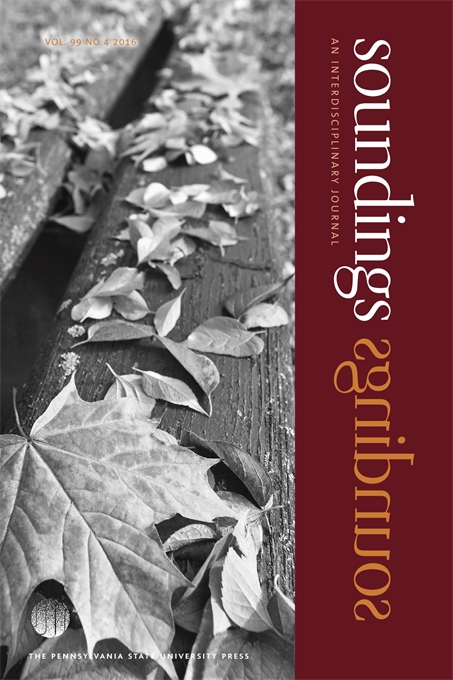 Soundings
An Interdisciplinary Journal
Joe Keener, Editor
Gregory A. Robbins, Editor
Peter Sposato, Editor
SUBSCRIBE / RENEW
Soundings
An Interdisciplinary Journal
Joe Keener, Editor
Gregory A. Robbins, Editor
Peter Sposato, Editor
Description

Board

Submissions

Pricing

Indexing
Soundings: An Interdisciplinary Journal encourages scholars to challenge the fragmentation of modern intellectual life. Since 1968, the journal has featured significant scholarship by leading thinkers from across the academy. Soundings aims to publish articles that open disciplines to each other, promote greater intellectual coherence, and engage readers in broad public and academic conversation.
The journal is affiliated with the Society for the Future of Higher Education. The Society for the Future of Higher Education (SFHE) is an incubator and advocate for ideas, strategies, and pedagogies to lead higher education to a more inclusive, just, and equitable future.
Editors
Joe Keener, Indiana University Kokomo
Gregory A. Robbins, University of Denver
Peter Sposato, Indiana University Kokomo
Editorial Board
Eric Bain-Selbo, Southeast Missouri State University
Jennifer Brinkley, University of West Florida
Robert Caserio, The Pennsylvania State University
Ayesha Chaudhry, The University of British Columbia
Harry F. Dahms, The University of Tennessee
G. Scott Davis, University of Richmond
Allen R. Dunn, The University of Tennessee
Laurel Fulkerson, The Florida State University
Elizabeth Gish, Western Kentucky University
Anthony Harkins, Western Kentucky University
Scott Herring, Indiana University
David Hoekema, (Chair), Calvin College
Linda Hogan, Trinity College Dublin
Mark Hulsether, The University of Tennessee
Mays Imad, Pima Community College
Christoph Irmscher, Indiana University
Guy Jordan, Western Kentucky University
Ryan Korstange, Tennessee Higher Education Commission
Paul Lauritzen, John Carroll University
Yong Li, Wuhan University
Keith Lloyd, Kent State University at Stark
David McCabe, Colgate University
Meredith McCarroll, Bowdoin College
Jordan Miller, Independent Scholar
Richard B. Miller, University of Chicago
Paul Murphy, Grand Valley State University
Cian O'Driscoll, University of Glasgow
Jeffrey C. Osborne, Murray State University
Mary Papke, The University of Tennessee
Douglas Reichert Powell, Columbia College-Chicago
Michael Ruse, The Florida State University
Alan Singer, Temple University
Nathan Stoltzfus, Florida State University
Nancy Warren, Texas A & M University
George Wilkes, University of Edinburgh
Marla K. Zubel, Western Kentucky University
Soundings: An Interdisciplinary Journal invites essays on topics related to any and all aspects of the human condition, particularly aesthetic, moral, political, economic, scientific, and religious values. We welcome work from a variety of disciplinary and especially interdisciplinary approaches, including the arts, cultural studies, history, literature, philosophy, and religion. Reviews of books, films, and exhibits are also welcome.
To submit a manuscript to the editorial office, please visit http://www.editorialmanager.com/soundings/ and create an author profile. The online system will guide you through the steps to upload your manuscript. Submission guidelines can be accessed at https://www.editorialmanager.com/soundings/account/SubmissionGuidelines.pdf. General questions can be directed to .
Institutional Print & Online - $284.00
Institutional Print or Online - $203.00
Institutional Single Issue - $57.00
Individual Print & Online - $95.00
Individual Print or Online - $68.00
Individual Single Issue - $23.00
Outside US add Shipping & Handling - $24.00
ATLA
Arts & Humanities Citation Index
European Reference Index for the Humanities and Social Sciences (ERIH PLUS)
IBZ
MLA International Bibliography
SCOPUS