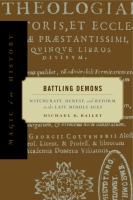 Battling Demons
Witchcraft, Heresy, and Reform in the Late Middle Ages
Copyright: 2003
Dimensions: 6 x 9
Page Count: 216 pages
Illustrations: 3 illustrations
Hardcover ISBN: 978-0-271-02225-3
Paperback ISBN: 978-0-271-02226-0
Series Name: Magic in History
"In Battling Demons, Michael Bailey places the Dominican theologian Johannes Nider at the center of an emerging set of beliefs about diabolical sorcery and witchcraft in the fifteenth century. His argument is entirely original and will force those of us who study witchcraft to consider its implications not only for the late Middle Ages but also for the great persecutions of the sixteenth and seventeenth centuries."
"Aside from offering a close reading of the Formicarius itself, the merit of this book lies in Bailey's careful construction of the intellectual background against which he projects Nider's assessment of the witches and the absolute evil they represented."
"In this masterful study of Nider, Bailey situates the Dominican reformer and his most famous work in the larger context of European religious and intellectual culture, convincingly demonstrating that the theologian's concerns informs and shaped his understanding of [witchcraft]. By elucidating Nider's role in fifteenth-century institutional and spiritual reform, and then connecting that reform to his conceptualization of the witch, Bailey has shed important light not only on his specific subject, but on the entire context of the early modern period."
"Although the extent to which Nider was typical of his time is debatable, the book does make a valuable contribution towards integrating the origins of the idea of witchcraft into the history of the fifteenth century."
"Battling Demons is a useful and thought-provoking book. Bailey will leave his readers wanting to explore further the life and activities of Nider, his writings, and the whole history of the Council of Basel in which Nider occupied a major position. The book is scholarly enough to keep the attention of the specialist, but not so technical and intricate as to be passed over by students."
"Although I suspect that more can be said about the religious status of wonders, and the pressing need to develop strategies to evaluate these, Michael Bailey has provided a thorough and compelling analysis of the origins of witchcraft."
"Bailey has written a book that should be read by everyone interested in witchcraft and late medieval religion."
"Copious notes and a thorough, even though select, bibliography with an index close out this fine volume. Specialists and novices of magic, witchcraft, and heresy will find this book to be accessible, compelling and informative."
"In this valuable, accurate, and engaging volume, Michael Bailey investigates the 'prehistory' of the early modern concept of witchcraft through the writings of Johannes Nider, a Dominican whose fundamental treatises—in particular, the seminal Formicarius—are still 'remarkably understudied.'"
The fifteenth century is more than any other the century of the persecution of witches. So wrote Johan Huizinga more than eighty years ago in his classic Autumn of the Middle Ages. Although Huizinga was correct in his observation, modern readers have tended to focus on the more spectacular witch-hunts of the sixteenth and seventeenth centuries. Nevertheless, it was during the late Middle Ages that the full stereotype of demonic witchcraft developed in Europe, and this is the subject of Battling Demons.
At the heart of the story is Johannes Nider (d. 1438), a Dominican theologian and reformer who alternately persecuted heretics and negotiated with them—a man who was by far the most important church authority to write on witchcraft in the early fifteenth century. Nider was a major source for the infamous Malleus maleficarum, or Hammer of Witches (1486), the manual of choice for witch-hunters in late medieval Europe. Today Nider's reputation rests squarely on his witchcraft writings, but in his own day he was better known as a leader of the reform movement within the Dominican order and as a writer of important tracts on numerous other aspects of late medieval religiosity, including heresy and lay piety. Battling Demons places Nider in this wider context, showing that for late medieval thinkers, witchcraft was one facet of a much larger crisis plaguing Christian society.
As the only English-language study to focus exclusively on the rise of witchcraft in the early fifteenth century, Battling Demons will be important to students and scholars of the history of magic and witchcraft and medieval religious history.
Contents
Acknowledgments
Abbreviations
Introduction: Witchcraft, Heresy, and Reform in the Fifteenth Century
1. The Life of Johannes Nider
2. Witchcraft in the Writings of Johannes Nider
3. The Threat of Heresy: Hussites, Free Spirits, and Beguines
4. Reform of the Orders, Reform of the Religious Spirit
5. The Reform of the Christian World: Johannes Nider's Formicarius
6. Witchcraft and Reform
Conclusion: Witchcraft and the World of the Late Middle Ages
Appendix One: Chronology of Nider's Life and Datable Works
Appendix Two: Dating of Nider's Major Works Used in this Study
Appendix Three: Manuscript Copies of Nider's Treatises
Select Bibliography
Other Ways to Acquire
Buy from Amazon.com

Buy from an Independent Bookstore
Buy from Powell's Books
Buy from Barnes and Noble.com
Find in a Library
Get the
Google Play Edition
Join
Sign up for e-mail notifications about new books and catalogs!
Related Subjects
Also of Interest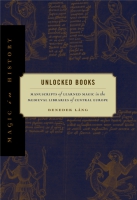 Manuscripts of Learned Magic in the Medieval Libraries of Central Europe