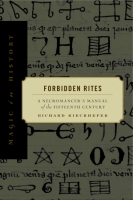 Forbidden Rites
A Necromancer's Manual of the Fifteenth Century
Copyright: 1998
Dimensions: 6.125 x 9.25
Page Count: 392 pages
Hardcover ISBN: 978-0-271-01750-1
Paperback ISBN: 978-0-271-01751-8
Series Name: Magic in History
Paperback Edition: $36.95
"Forbidden Rites lays a solid foundation for future research on this topic and establishes a very high scholarly standard."
"Forbidden Rites, in illuminating the continuities between the orthodox and the illicit, greatly enriches our knowledge of this period in which necromancy flourished."
"This book is enormously important. Building on his previous work, especially Magic in the Middle Ages (Cambridge, 1989), the author develops his formative insights into the subject of religion and magic in the late Middle Ages and also offers an edition of a truncated, therefore authorless and titleless, fifteenth-century manuscript (in Munich Clm 849) of a magical handbook."
"This book provides a vivid and detailed picture of medieval magical practice from the inside. With his edition of the Latin text and thorough analysis which accompanies it, Professor Kieckhefer has made accessible the aims, intents, and mentalities of the medieval necromancer."
"Forbidden Rites opens a window onto aspects of late-medieval religion and culture that have often been hidden in the shadows. The material is fascinating, the arguments compelling. . . . All told, this is one of the most important works on late medieval magic from one of its most perceptive historians."
"I was captivated . . . by Forbidden Rites, part of an excellent series under the rubric Magic in History; with wonderful wit and succinct contextual insights, Richard Kieckhefer has edited a German wizard's grimoire, packed with spells for Prospero-like conjurations of phantom banquets and castles in the air, as well as complicated charms, many involving hoopoes, against all manner of ills."
Preserved in the Bavarian State Library in Munich is a manuscript that few scholars have noticed and that no one in modern times has treated with the seriousness it deserves. Forbidden Rites consists of an edition of this medieval Latin text with a full commentary, including detailed analysis of the text and its contents, discussion of the historical context, translation of representative sections of the text, and comparison with other necromantic texts of the late Middle Ages. The result is the most vivid and readable introduction to medieval magic now available.
Like many medieval texts for the use of magicians, this handbook is a miscellany rather than a systematic treatise. It is exceptional, however, in the scope and variety of its contents—prayers and conjurations, rituals of sympathetic magic, procedures involving astral magic, a catalogue of spirits, lengthy ceremonies for consecrating a book of magic, and other materials.
With more detail on particular experiments than the famous thirteenth-century Picatrix and more variety than the Thesaurus Necromantiae ascribed to Roger Bacon, the manual is one of the most interesting and important manuscripts of medieval magic that has yet come to light.
Other Ways to Acquire
Buy from Amazon.com

Buy from an Independent Bookstore
Buy from Powell's Books
Buy from Barnes and Noble.com
Get a License to Reuse
Find in a Library
Get the
Kobo Edition
Get the
iBook Edition
Join
Sign up for e-mail notifications about new books and catalogs!
Related Subjects
Also of Interest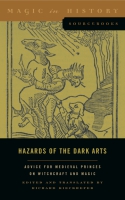 Advice for Medieval Princes on Witchcraft and Magic