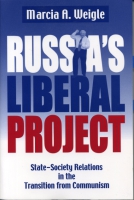 Russia's Liberal Project
State-Society Relations in the Transition from Communism
Copyright: 1999
Dimensions: 6 x 9
Page Count: 528 pages
Hardcover ISBN: 978-0-271-01941-3
Paperback ISBN: 978-0-271-01942-0
Series Name: Post-Communist Cultural Studies
"Marcia Weigle's book, Russia's Liberal Project: State-Society Relations in the Transition from Communism, is a thoughtful synthesis of the scholarly debates about the causes of and solutions to the problems Russia faces today."
"Marcia Weigle has written a valuable book on the successes and failures of the attempt in the last decade and a half of the twentieth century to liberalize the Russian polity. She has performed a real service by producing such a substantial volume on state-society relations from the last years of the Soviet Union to the last years of Yeltsin."
"Weigle's book will be of interest to specialists on post-Communist Russian democratization for its wide-ranging and sympathetic treatment of diverse trends in Russian liberalism in the Gorbachev and El'tsin eras."
Russia's Liberal Project analyzes the demise of Communism in Soviet Russia and the effort to establish a liberal democracy in post-Communist Russia as part of a single decade-long project of institutionalizing political liberalism. This project involves the formation of a civil society, the consolidation of a multiparty parliamentary system, the construction of an effective state structure built on liberal principles, and the formation of a post-Communist political culture.
Revealing the dynamic among these four components of the project, Weigle shows that, in the absence of a well-connected civil society, an effective political party system, and a liberal political culture, the Russian state was charged with establishing the foundations of a post-Communist liberal democracy. Although liberal institutions have been tentatively established, the weak social and cultural supports for the state-led transition threaten the future success of Russia's liberal project.
Other Ways to Acquire
Buy from Amazon.com

Buy from an Independent Bookstore
Buy from Powell's Books
Buy from Barnes and Noble.com
Get a License to Reuse
Find in a Library
Join
Sign up for e-mail notifications about new books and catalogs!
Related Subjects