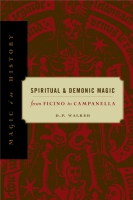 Spiritual and Demonic Magic
From Ficino to Campanella
Copyright: 2000
Dimensions: 6 x 9
Page Count: 256 pages
Paperback ISBN: 978-0-271-02045-7
Series Name: Magic in History
Co-publisher: Sutton Publishing Ltd.
Paperback Edition: $35.95
"Spiritual and Demonic Magic remains the basis of contemporary scholarly understanding of the theory of magic in postmedieval Europe."
First published by the Warburg Institute in 1958, this book is considered a landmark in Renaissance studies. Whereas most scholars had tended to view magic as a marginal subject, Walker showed that magic was one of the most typical creations of the late fifteenth and sixteenth centuries.
Walker takes readers through the magical concerns of some of the greatest thinkers of the Renaissance, from Marsilio Ficino, Giovanni Pico della Mirandola, and Jacques Lefevre d'Etaples to Jean Bodin, Francis Bacon, and Tommaso Campanella. Ultimately he demonstrates that magic was interconnected with religion, music, and medicine, all of which were central to the Renaissance notion of spiritus.
Remarkable for its clarity of writing, this book is still considered essential reading for students seeking to understand the assumptions, beliefs, and convictions that informed the thinking of the Renaissance. This edition features a new introduction by Brian Copenhaver, one of our leading experts on the place of magic in intellectual history.
Other Ways to Acquire
Buy from Amazon.com

Buy from an Independent Bookstore
Buy from Powell's Books
Buy from Barnes and Noble.com
Get a License to Reuse
Find in a Library
Join
Sign up for e-mail notifications about new books and catalogs!