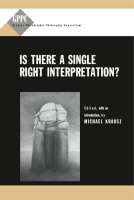 Is There a Single Right Interpretation?
Copyright: 2002
Dimensions: 6 x 9
Page Count: 432 pages
Illustrations: 2 b&w illustrations
Hardcover ISBN: 978-0-271-02175-1
Paperback ISBN: 978-0-271-02183-6
Paperback Edition: $51.95
"Interpretation is as irritating as it is fascinating. To think that a work like Hamlet or The Upanishads has only one correct interpretation seems arrogant. To allow more than one brings us perilously close to contradiction. This collection brings together a series of searching and subtle papers that illuminate the metaphysical, epistemological, phenomenological, and action-theoretical facets of interpretation, providing resources for a more nuanced understanding of interpretation and its objects."
"It is hard to think of a single work that explains so clearly what these issues are and why they are important. The scholarship is excellent, and the introductory material is especially clear. Highly recommended for all collections."
"However, the volume has come into being, the essays are well-written and pleasant to read.

Krausz as editor, and as an author whose writings are well-known in this area, offers the reader what must be a difinitive presentation of the current range of views on the subject."
Is there a single right interpretation for such cultural phenomena as works of literature, visual artworks, works of music, the self, and legal and sacred texts? In these essays, almost all written especially for this volume, twenty leading philosophers pursue different answers to this question by examining the nature of interpretation and its objects and ideals.
The fundamental conflict between positions that universally require the ideal of a single admissible interpretation (singularism) and those that allow a multiplicity of some admissible interpretations (multiplism) leads to a host of engrossing questions explored in these essays: Does multiplism invite interpretive anarchy? Can opposing interpretations be jointly defended? Should competition between contending interpretations be understood in terms of (bivalent) truth or (multivalent) reasonableness, appropriateness, aptness, or the like? Is interpretation itself an essentially contested concept? Does interpretive activity seek truth or aim at something else as well? Should one focus on interpretive acts rather than interpretations? Should admissible interpretations be fixed by locating intentions of a historical or hypothetical creator, or neither? What bearing does the fact of the historical situatedness of cultural entities have on their identities?
The contributors are Annette Barnes, Noël Carroll, Stephen Davies, Susan Feagin, Alan Goldman, Charles Guignon, Chhanda Gupta, Garry Hagberg, Michael Krausz, Peter Lamarque, Jerrold Levinson, Joseph Margolis, Rex Martin, Jitendra Mohanty, David Novitz, Philip Percival, Torsten Pettersson, Robert Stecker, Laurent Stern, and Paul Thom.
Other Ways to Acquire
Buy from Amazon.com

Buy from an Independent Bookstore
Buy from Powell's Books
Buy from Barnes and Noble.com
Find in a Library
Join
Sign up for e-mail notifications about new books and catalogs!
Related Subjects