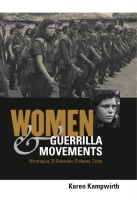 Women and Guerrilla Movements
Nicaragua, El Salvador, Chiapas, Cuba
Copyright: 2002
Dimensions: 6 x 9
Page Count: 208 pages
Hardcover ISBN: 978-0-271-02185-0
Paperback ISBN: 978-0-271-02251-2
Paperback Edition: $34.95
"This is an intelligent and well-researched book—essential reading for helping academics and practitioners think through the complexities of women's lives during and after revolutions. Kampwirth's book will chart a new course for us to study women as individuals, not just as a group, with regard to political and social revolutions. A book that superbly captures the real lives of women revolutionaries—without over-romanticizing the revolutions or the roles of women."
"Karen Kampwirth has here made a fundamental contribution to the literature on revolutions, weaving together structural political economy and personal stories in a provocative, soundly argued way. The stories are fascinating and gripping, the ideas striking and powerful, the writing highly engaging. The theoretical framework, based on a combination of structural and personal factors, is wise, inventive, and sound, and is tested with some very original and hard-to-get empirical data from four cases—Nicaragua, El Salvador, Cuba, and Chiapas. It will be widely seen as the essential work on the increasingly studied topic of women and revolution."
"Why, then, yet another book on guerrilla movements? Karen Kamwirth shows us why in Women and Guerrilla Movements.

Kampwirth's analysis thus, implicitly, leaves us with a frame to better understand how movements in the post-Cold War are likely to be different in form and content than earlier movements."
"Overall, this is an important and engaging book."
"Without a doubt, such a perspective raises new issues for research, while also focusing on old ones, and helps one gain a better view of gender politics within individual countries and societies."
"Karen Kampwirth's Women and Guerrilla Movements is an exceptional contribution to revolutionary studies. Through her analysis of female guerrillas in Nicaragua, El Salvador, Chiapas and Cuba, she demonstrates that by excluding gender from their analysis, the vast majority of scholars of revolutions have missed key dynamics.

In sum, Women and Guerrilla Movements is a coherent, engaging, well-researched, and thoughtful development in revolutionary studies."
"Kampwirth provides an excellent synthesis of existing studies, documents, and theories. Her cross-national analysis highlights the similar structural and cultural patterns found across multiple movements, and she critically outlines the macro-level changes that made possible women's increased political activism in recent decades. Kampwirth demonstrates unequivocally the necessity for incorporating gender into any explanation of revolutionary movements.

Kampwirth's book provides an excellent foundation from which future studies will no doubt begin their discussion."
"This book is most illuminating when it delves into the details of particular women's lives."
"An excellent addition to the literature, this volume will be of great interest to scholars interested in the long history of populism and will also make an accessible and thought-provoking addition to the reading lists of students of modern Latin American history and Latin American gender studies."
The revolutionary movements that emerged frequently in Latin America over the past century promoted goals that included overturning dictatorships, confronting economic inequalities, and creating what Cuban revolutionary hero Che Guevara called the "new man." But, in fact, many of the "new men" who participated in these movements were not men. Thousands of them were women. This book aims to show why a full understanding of revolutions needs to take account of gender.
Karen Kampwirth writes here about the women who joined the revolutionary movements in Nicaragua, El Salvador, and the Mexican state of Chiapas, about how they became guerrillas, and how that experience changed their lives. In the last chapter she compares what happened in these countries with Cuba in the 1950s, where few women participated in the guerrilla struggle.
Drawing on more than two hundred interviews, Kampwirth examines the political, structural, ideological, and personal factors that allowed many women to escape from the constraints of their traditional roles and led some to participate in guerrilla activities. Her emphasis on the experiences of revolutionaries adds a new dimension to the study of revolution, which has focused mainly on explaining how states are overthrown.
Contents
Acknowledgments
Introduction
1. New Roles for Sandino's Daughters
2. Feminine Challenges to Military Rule in El Salvador
3. Also a Women's Rebellion: The Rise of the Zapatista Army
4. Rethinking Women and Guerrilla Movements: Back to Cuba
Appendix: Social Origins of the Central American Guerrillas
Bibliography
Index
Other Ways to Acquire
Buy from Amazon.com

Buy from an Independent Bookstore
Buy from Powell's Books
Buy from Barnes and Noble.com
Get a License to Reuse
Find in a Library
Get the
Kobo Edition
Get the
iBook Edition
Join
Sign up for e-mail notifications about new books and catalogs!
Related Subjects
Also of Interest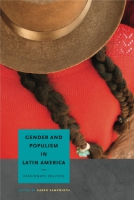 Passionate Politics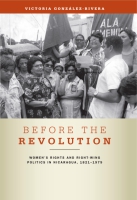 Women's Rights and Right-Wing Politics in Nicaragua, 1821–1979
This book is a part of the Association of American University Presses'
Books for Understanding: Cuba
book list, created to help all of us better understand the world we live in.
Knowledge, Not just information