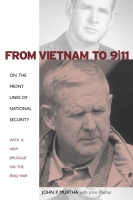 From Vietnam to 9/11
On the Front Lines of National Security
Copyright: 2003
Dimensions: 6 x 9
Page Count: 256 pages
Illustrations: 11 illustrations/5 maps
Hardcover ISBN: 978-0-271-02239-0
Paperback ISBN: 978-0-271-02396-0
"Every official serving in the Pentagon and State Department must read Jack Murtha's book. He has been a troubleshooter for President's, a critic of the brass, but always a friend to the men and women of America's Armed Forces. Jack Murtha has earned his reputation - a straight talking, hard charging, independent leader who goes straight to the front lines. From Vietnam to 9/11 is his story, but it's pure American."
"I expected the book to be the usual 'walks on water, leaps over tall buildings' political puffery that such books can be. It wasn't; it is much better than that.

It is an analytical history of defense and foreign affairs matters that Murtha has been involved in from the Vietnam War through Sept. 11. He makes his comments from the informed position of longtime membership on the House Defense Appropriations Subcommittee, the panel responsible for appropriating the money for America's various military ventures.

Best of all, many of his observations are very relevant to what Americans are going through right now as the country appears to be headed for a major regional war in the Middle East."
"It is a history that should be required reading for any class wanting to learn the story of the country's dealings with the world over the past half-century."
"He offers candid opinions and observations without being overly critical about decisions he did not support."
"Part policy statement and part memoir, the book shows Murtha's flair for detail and sense of humor without ever letting off the hook leaders he believed had compromised the safety of American soldiers."
"Congressman Murtha has written an insightful and powerful account of his life of public service and of the significant events in our nation's recent history that he has witnessed. It is a first-hand account by one of the most respected members of our Congress. This is a must-read if you want to hear it straight from a savvy man of action who was there making history."
"This is a sober, intelligent, insightful book written by a veteran of Congress who has been involved in most of the major foreign policy decisions of the last quarter century. Currently the ranking Democrat on the House Defense Appropriations Subcommittee, Murtha has had a unique vantage point on the passing scene"
In 1974, John P. "Jack" Murtha became the first Vietnam combat veteran elected to Congress. In the nearly three decades since then, Congressman Murtha has been intimately involved with governmental decisions about America's national security and foreign policy, adding his unique perspective to international affairs while faithfully representing Pennsylvania's twelfth district. From Vietnam to 9/11 combines personal memoir with thoughtful analysis to provide a behind-the-scenes account of the formation and conduct of U.S. foreign policy in the last quarter-century. At the same time, it tells the story of a man committed to service and community.
Contents
Acknowledgments
List of Acronyms
1. Service in Vietnam: 1966–1967
2. Election to Congress-Return to Vietnam
3. Tragedy in Lebanon
4. Soviet Union's Defeat in Afghanistan
5. High Drama Election in the Philippines
6. Stolen Election and American Intervention in Panama
7. "Operation Desert Shield" and "Operation Desert Storm"
8. Humanitarian Mission to Manhunt in Somalia
9. War in the Balkans
10. September 11, 2001
11. Reflecting on the Past/Looking to the Future
Epilogue
Index
Other Ways to Acquire
Buy from Amazon.com

Buy from an Independent Bookstore
Buy from Powell's Books
Buy from Barnes and Noble.com
Get a License to Reuse
Find in a Library
Get the
Google Play Edition
Join
Sign up for e-mail notifications about new books and catalogs!
Related Subjects
Also of Interest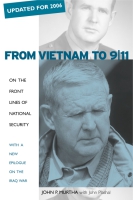 On the Front Lines of National Security, with a New Epilogue on the Iraq War
This book is a part of the Association of American University Presses'
Books for Understanding: Iraq
book list, created to help all of us better understand the world we live in.
Knowledge, Not just information