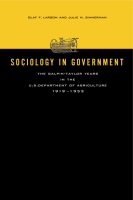 Sociology in Government
The Galpin-Taylor Years in the U.S. Department of Agriculture, 1919–1953
Copyright: 2003
Dimensions: 6 x 9
Page Count: 360 pages
Hardcover ISBN: 978-0-271-02298-7
Paperback ISBN: 978-0-271-02849-1
Series Name: Rural Studies
"This detailed chronicle of the research conducted in the US Department of Agriculture's Division of the Farm Population and Rural Life between 1919 and 1953 provides a useful overview of the range of research conducted or sponsored by the division and some of the political and institutional challenges to its program. Larson (emer., Cornell Univ.) and Zimmerman (Univ. of Kentucky) nicely illustrate that high-quality research was produced during the years that Charles Galpin and Carl Taylor headed the division. Readers are provided with in-depth descriptive accounts of their tenures."
"The most significant contribution of this book is its ability to provide roots for contemporary rural sociologists, especially those housed in land grant universities or federal government agencies or those holding extension appointments. It provides history and context for our work, and shows the relevance and potential contribution of applied, policy-related research. The authors show a deep respect for Division staff, particularly Galpin and Taylor, as advocates for rural communities and visionaries for the future of rural sociology."
From 1919 through 1953, the U.S. Department of Agriculture housed the Division of Farm Population and Rural Life—the first unit within the federal government established specifically for sociological research. Distinguished sociologists Charles Galpin and Carl Taylor provided key leadership for 32 of its 34 years as the Division sought to understand the social structure of rural America and to do public policy-oriented research. It reached the height of its influence during the New Deal and World War II as it helped implement modern liberal policies in America's farming sector, attempting to counteract the harsh effects of modern industrialism on the rural economy. In addition, the Division devoted resources to studying both the history and the contemporary state of rural social life.
Sociology in Government offers the first detailed historical account and systematic documentation of this remarkable federal office. The Division of Farm Population and Rural Life was an archetypal New Deal governmental body, deeply engaged in research on agricultural planning and action programs for the disadvantaged in rural areas. Its work continued during World War II with farm labor and community organization work. Larson and Zimmerman emphasize the Division's pioneering practices, presenting it as one model for applying the discipline of sociology in the government setting. Published in cooperation with the American Sociological Association, Sociology in Government preserves the history of this pathbreaking research unit whose impact is still felt today.
Contents
Foreword
Felice J. Levine and James J. Zuiches; John E. Lee Jr.
Acknowledgments
List of Acronyms
1. Introduction
2. Establishing the Division: The Background
3. The Division as an Organization
4. Research Priorities and Programs: Continuities and Discontinuities
5. Farm and Rural Population
6. Levels and Standards of Living
7. The Social Organization of Rural Society: Locality and Other Groups
8. The Social Organization of Rural Life: Institutions and Services
9. Farm Labor
10. The Sociology of Agriculture
11. The Division and Black Populations Yvonne Oliver
12. The Practice of Sociology: I
13. The Practice of Sociology: II
14. Some Other Areas of Research
15. The Division and the Social Science Research System
16. Retrospect and Reflections
Epilogue
Appendix: Persons on the Professional Staff of the Division of Farm Population and Rural Life, Bureau of Agricultural Economics, U.S. Department of Agriculture, 1919–1953
References
Index
Other Ways to Acquire
Buy from Amazon.com

Buy from an Independent Bookstore
Buy from Powell's Books
Buy from Barnes and Noble.com
Find in a Library
Get the
Google Play Edition
Join
Sign up for e-mail notifications about new books and catalogs!
Related Subjects
Also of Interest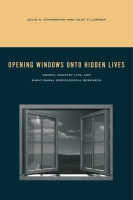 Women, Country Life, and Early Rural Sociological Research