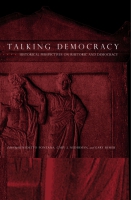 Talking Democracy
Historical Perspectives on Rhetoric and Democracy
Copyright: 2004
Dimensions: 6 x 9
Page Count: 344 pages
Hardcover ISBN: 978-0-271-02456-1
Paperback ISBN: 978-0-271-02457-8
Paperback Edition: $41.95
"A fine scholarly volume, Talking Democracy is a salutary corrective to any conception of political theorizing as something of a straightforwardly progressive enterprise which has long ago surpassed the wisdom of the ancients, who remain only to be caricatured or pillaged. The editors accomplish this by assembling a diverse collection of essays which draw upon pre-modern political thought in order to assess the idea of deliberative democracy. The contributors illuminate the shortcomings of that present-day endeavor to design the best regime by retrieving an understanding of deliberative practices and democratic realities which deliberative democratic theory forgets or abstracts away from, whether neglectfully or willfully. Above all, the book demonstrates the wrong-headedness of imagining the possibility and supposing the desirability of liberating deliberation from rhetorical persuasion."
"This is an excellent volume, not only because the essays recover forgotten sources of profound reflection on rhetoric and the true nature of democratic deliberation, but also because the contributors display a remarkable flexibility in bringing historical perspectives to bear on contemporary issues. Perhaps the greatest virtue of this volume is the service it does in bridging the divide within political theory between the study of the history of political thought and contemporary attempts to construct new theoretical models. The contributors have not merely argued that even premodern sources can shed light on questions central to political theory today—they have demonstrated it."
In their efforts to uncover the principles of a robust conception of democracy, theorists of deliberative democracy place a premium on the role of political expression—public speech and reasoned debate—as the key to democratic processes. They also frequently hark back to historical antecedents (as in the Habermasian invocation of the "public sphere" of eighteenth-century bourgeois society and the Arendtian valorization of the classical Athenian polis) in their quest to establish that deliberative procedures are more than "merely theoretical" and instead have a practical application. But for all this emphasis on the discursive and historical dimensions of democracy, these theorists have generally neglected the rich resources available in the history of rhetorical theory and practice. It is the purpose of Talking Democracy to resurrect this history and show how attention to rhetoric can help lead to a better understanding of both the strengths and limitations of current theories of deliberative democracy.
Contributors, besides the editors, are Russell Bentley, Tsae Lan Lee Dow, Tom Murphy, Arlene Saxonhouse, Gary Shiffman, John Uhr, Nadia Urbinati, John von Heyking, and Douglas Walton.
Contents
Acknowledgments
Introduction: Deliberative Democracy and the Rhetorical Turn
Benedetto Fontana, Cary J. Nederman, and Gary Remer
1. Rhetoric and the Roots of Democratic Politics
Benedetto Fontana
2. Democratic Deliberation and the Historian's Trade: The Case of Thucydides
Arlene W. Saxonhouse
3. Deliberation versus Decision: Platonism in Contemporary Democratic Theory
Gary Shiffman
4. Rhetorical Democracy
Russell Bentley
5. Cicero and the Ethics of Deliberative Rhetoric
Gary Remer
6. Disarming, Simple, and Sweet: Augustine's Republican Rhetoric
John von Heyking
7. The Road to Heaven Is Paved with Pious Deceptions: Medieval Speech Ethics and Deliberative Democracy
Cary J. Nederman and Tsae Lan Lee Dow
8. Deliberative Democracy and the Public Sphere: Answer or Anachronism?
Thomas Murphy
9. Auditory Democracy: Separation of Powers and the Locations of Listening
John Uhr
10. Reading J. S. Mill's The Subjection of Women as a Text of Deliberative Rhetoric
Nadia Urbinati
11. Criteria of Rationality for Evaluating Democratic Public Rhetoric
Douglas Walton
Contributors
Index