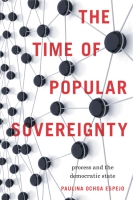 The Time of Popular Sovereignty
Process and the Democratic State
Copyright: 2011
Dimensions: 6 x 9
Page Count: 232 pages
Hardcover ISBN: 978-0-271-03796-7
Paperback ISBN: 978-0-271-03797-4
Hardcover Edition: $67.95
Paperback Edition: $34.95
The MacMillan Report featured Professor Paulina Ochoa Espejo in its February 1, 2012 episode.
"'The people' is both a perennial feature and an enduring problem in our understanding of democracy. In The Time of Popular Sovereignty, Paulina Ochoa Espejo clears away centuries of conceptual clutter, showing a keen awareness of the paradoxes that plague this project. Her solution is refreshing: stop thinking of a democratic people as a goal to be achieved, and start thinking of it as an ongoing process. Her dynamic view of democracy charts exciting terrain in democratic theory and moves our thinking in provocative new directions."
"If the paradox of political founding is an enduring one, we would do well to look for alternative formulations that do not pretend to resolve it but that show us what politics can be in the light of its ineliminability. Paulina Ochoa Espejo does precisely this by conceiving the democratic people as a process rather than an association, its members as relational events rather than discrete individuals, interacting and changing creatively through time. Mainstream democratic theorists will be compelled to engage with this work, which shows effectively how their pretensions to legitimate democratic practices continue to rely on fictions they claim to have moved beyond."
"In this unusual and original work, Paulina Ochoa Espejo analyzes a foundational concept of all modern political thought: the people. She brings aesthetic as well as metaphysical theories of process to bear on this concept, resulting in some astonishing observations about temporality and 'the people.'"
"How can 'the people' govern when they are always changing and most of them never meet? By depicting 'the people' as ever in process, Paulina Ochoa Espejo provides fresh answers to some of the most perplexing problems of modern democratic theory. An important and stimulating contribution."
Democracy is usually conceived as based on self-rule or rule by the people, and it is this which is taken to ground the legitimacy of the democratic form of government. But who constitutes the people? Democratic political theory has a potentially fatal weakness at its core unless it can answer this question satisfactorily. In The Time of Popular Sovereignty, Paulina Ochoa Espejo examines the problems the concept of the people raises for liberal democratic theory, constitutional theory, and critical theory. She argues that to solve these problems, the people cannot be conceived as simply a collection of individuals. Rather, the people should be seen as a series of events, an ongoing process unfolding in time. She then offers a new theory of democratic peoplehood, laying the foundations for a new theory of democratic legitimacy.
Contents
Acknowledgments
Introduction: The Time of the People
1. The Mob and the People in Mexico: A Historical Example of the Indeterminacy of Popular Unification
2. A Problem in Liberal Democratic Theory: The Indeterminacy of Popular Unification
3. Mechanical and Teleological Conceptions of the People
4. Dynamic Constitutionalism and Historical Time
5. The People Between Change and Stability
6. Creative Freedom and the People as Process
7. A Democratic People as Process
Conclusion: Radical Realism
Bibliography
Index