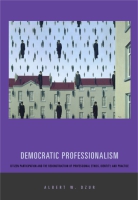 Democratic Professionalism
Citizen Participation and the Reconstruction of Professional Ethics, Identity, and Practice
Copyright: 2008
Dimensions: 6 x 9
Page Count: 288 pages
Hardcover ISBN: 978-0-271-03332-7
Paperback ISBN: 978-0-271-03333-4
Paperback Edition: $30.95
"Albert Dzur has written an important defense of professionalism and its crucial relationship to democracy. This is an especially well-timed book, seeing as professional credibility has sunk to new lows in our contemporary political culture and has been under attack from both the left and right."
"This book is an important, innovative contribution to a topic that needs much more attention in political theory, namely, serious consideration of the role of the professions in a democratic society. The fact that the central role of professional expertise has been neglected by political theorists, including the decision practices to which expertise gives rise, is as astonishing as it is problematic. As this work makes clear, a democratic theory that fails to adequately examine the relationship between citizen participation and expert knowledge in a technological information society can only fall short of the mark. Professor Dzur's effort to redress this shortcoming is a genuine service to the field."
"A wise, critical exercise in applied theory, this work deserves a wide audience."
"There is no topic more central to the debate about democratic renewal than the role of professionals as civic actors in institutional settings. Dzur's Democratic Professionalism provides an indispensable analysis of the theoretical foundations for thinking about this productively, as well as rich, contextualized case studies of professionals who have managed to generate innovative practice and transform identities in ways that at once enrich expertise and engage ordinary citizens. This book is a wonderful scholarly contribution and a terrific resource for teaching across the social sciences and in professional schools."
"Albert Dzur's Democratic Professionalism, which explores the democratic possibilities of professions, is a splendid work of political theory, but it is also considerably more. By incisively challenging and showing ways beyond the forces that have displaced the agency of ordinary people in modern societies, it points toward escape from the 'iron cage' of technical reason that has long been thought to be our ineluctable fate. Dzur's larger point is a wake-up call for the rebuilding of our commonwealth by citizens who come to realize that our most important and shared work, across the lines of all our differences, is to co-create our common world, not to consume it."
"At a time in which Elinor Ostrom has won the Nobel Prize for demonstrating the importance of the coproduction of public goods by citizens, we are fortunate to have a book that discusses the role professionals can play in aligning their routines with the work that citizens do in coproduction. Professor Dzur also raises the issue of what responsibility universities have to a democratic citizenry, since these institutions prepare most of our professionals. Perhaps the civic engagement that higher education promotes can begin internally as well as externally."
Bringing expert knowledge to bear in an open and deliberative way to help solve pressing social problems is a major concern today, when technocratic and bureaucratic decision making often occurs with little or no input from the general public. Albert Dzur proposes an approach he calls "democratic professionalism" to build bridges between specialists in domains like law, medicine, and journalism and the lay public in such a way as to enable and enhance broader public engagement with and deliberation about major social issues. Sparking a critical and constructive dialogue among social theories of the professions, professional ethics, and political theories of deliberative democracy, Dzur reveals interests, motivations, strengths, and vulnerabilities in conventional professional roles that provide guideposts for this new approach. He then applies it in examining three practical arenas in which experiments in collaboration and power-sharing between professionals and citizens have been undertaken: public journalism, restorative justice, and the bioethics movement. Finally, he draws lessons from these cases to refine this innovative theory and identify the kinds of challenges practitioners face in being both democratic and professional.
Contents
Acknowledgments
Introduction: The Ethics and Politics of Professions
1. The Missing Agents of Contemporary Democratic Thought
2. Beyond Self-Interest: The Apolitical Picture of Professionals
3. Professionals versus Democracy: The Radical Critique of Technocrats, Disabling Experts, and Task M.onopolists
4. Task Sharing for Democracy: Themes from Political Theory
5. Public Journalism
6. Restorative Justice
7. Bioethics
8. Context and Consequences: The Duties of Democratic Professionals
Conclusion: The University's Role in the Democratization of Professional Ethics
Index
Other Ways to Acquire
Buy from Amazon.com

Buy from an Independent Bookstore
Buy from Powell's Books
Buy from Barnes and Noble.com
Find in a Library
Get the
Kobo Edition
Get the
iBook Edition
Join
Sign up for e-mail notifications about new books and catalogs!
Related Subjects
Also of Interest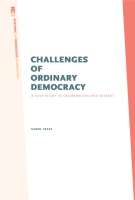 A Case Study in Deliberation and Dissent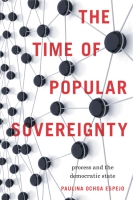 Process and the Democratic State