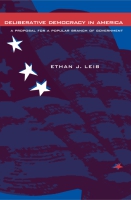 Deliberative Democracy in America
A Proposal for a Popular Branch of Government
Copyright: 2004
Dimensions: 6 x 9
Page Count: 168 pages
Hardcover ISBN: 978-0-271-02363-2
Paperback ISBN: 978-0-271-02697-8
Paperback Edition: $30.95
Website Sale Price: $7.74, You save 75% Add to Cart
"Leib makes a bold foray into the realm of Constitutional design that adds sorely needed suggestions for fundamental institutional change into debates about deliberative democracy. With uncommon insight and creativity, he draws upon practical innovations in local deliberation such as citizen juries and deliberative polls to construct a proposal for an entirely new branch of government that would inject direct popular deliberation into law-making. His book is highly profitable and provocative for anyone interested in the deeply democratic reform of American government."
"Most contemporary work in political theory that relates to deliberative democracy has become far too abstract. Ethan Leib goes to the heart of the matter by asking how deliberative democracy can really work under existing conditions. In doing this, he has written an important book for anyone concerned about the future of democracy."
"The analysis of existing institutions and Leib's solution cast a great deal of light on our present problems and what seems to me the failure of those institutions to work in a deliberative, let alone democratic, way. I am enjoying reading the book and learning from it."
"Although readers may find it difficult to accept Leib's proposal, the book offers a wealth of information about the development of deliberative democratic theory, an important contribution."
We are taught in civics class that the Constitution provides for three basic branches of government: executive, judicial, and legislative. While the President and Congress as elected by popular vote are representative, can they really reflect accurately the will and sentiment of the populace? Or do money and power dominate everyday politics to the detriment of true self-governance? Is there a way to put "We the people" back into government? Ethan Leib thinks there is and offers this blueprint for a fourth branch of government as a way of giving the people a voice of their own.
While drawing on the rich theoretical literature about deliberative democracy, Leib concentrates on designing an institutional scheme for embedding deliberation in the practice of American democratic government. At the heart of his scheme is a process for the adjudication of issues of public policy by assemblies of randomly selected citizens convened to debate and vote on the issues, resulting in the enactment of laws subject both to judicial review and to possible veto by the executive and legislative branches. The "popular" branch would fulfill a purpose similar to the ballot initiative and referendum but avoid the shortcomings associated with those forms of direct democracy. Leib takes special pains to show how this new branch would be integrated with the already existing governmental and political institutions of our society, including administrative agencies and political parties, and would thus complement rather than supplant them.
Contents
Acknowledgments
Introduction
1. Getting Right Down to the Business of Design
2. Arguing for Arguing
3. Defending the Separation of Powers: The Failures of the Progressives
4. Checking and Balancing
5. Considering Possible Objections
6. Learning from the Jury Analogy
7. Setting the Agenda in Civil Society
Conclusion, or Just the Beginning
Bibliography
Index
Other Ways to Acquire
Buy from Amazon.com

Buy from an Independent Bookstore
Buy from Powell's Books
Buy from Barnes and Noble.com
Find in a Library
Get the
Google Play Edition
Join
Sign up for e-mail notifications about new books and catalogs!
Related Subjects
Also of Interest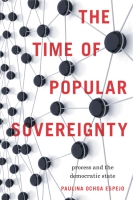 Process and the Democratic State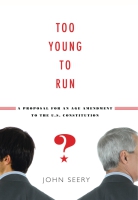 A Proposal for an Age Amendment to the U.S. Constitution
This book is a part of the Association of American University Presses'
Books for Understanding: Voting & Elections
book list, created to help all of us better understand the world we live in.
Knowledge, Not just information