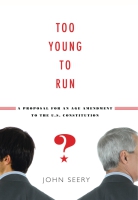 Too Young to Run?
A Proposal for an Age Amendment to the U.S. Constitution
Copyright: 2011
Dimensions: 6 x 9
Page Count: 200 pages
Hardcover ISBN: 978-0-271-04853-6
Paperback ISBN: 978-0-271-04854-3
Hardcover Edition: $46.95
Website Sale Price: $28.17, You save 40%
Paperback Edition: $35.95
Website Sale Price: $21.57, You save 40%
"John Seery's book is applied political theory at its best: it enunciates a proposition that no doubt will be initially implausible to many readers and offers a superb defense that should change a lot of minds and, along the way, provide wonderful food for thought about what constitutes a truly democratic electorate."
"So much is controversial nowadays, but not so the set age limits for public service in Washington. Why not? What historical reasons informed these age limits in the first place, and what contemporary reasons support their maintenance now, hundreds of years later? John Seery is a political theorist committed to interrogating questions that many of us never think to ask. When he takes a position, he does not always persuade everyone to his view, but in his intelligence, tenacity, and inventiveness, he never disappoints."
"Seery engages the important but neglected subject of the American age qualifications for public office and does so in an extraordinarily broad-gauged way that sheds a great deal of light on American democracy more generally."
"This is a wonderful challenge to complacency about constitutional rights. Seery asks important questions and provides an energetic defense of the constitutional right of all citizens to hold office in the United States."
Under the Constitution of the United States, those with political ambitions who aspire to serve in the federal government must be at least twenty-five to qualify for membership in the House of Representatives, thirty to run for the Senate, and thirty-five to become president. What is the justification for these age thresholds, and is it time to consider changing them? In this provocative and lively book, John Seery presents the case for a constitutional amendment to lower the age barrier to eighteen, the same age at which citizens become eligible to vote. He divides his argument into three sections. In a historical chapter, he traces the way in which the age qualifications became incorporated in the Constitution in the first place. In a theoretical chapter, he analyzes the normative arguments for office eligibility as a democratic right and liberty. And in a political chapter, he ruminates about the real-world consequences of passing such an amendment and the prospects for its passage. Finally, in a postscript, he argues that younger citizens in particular ought to be exposed to this fundamental issue in civics.
Contents
Acknowledgments
Introduction
1. History
2. Theory
3. Politics
Postscript: An Appeal to U.S. Civics Educators
Appendix 1: Federal Age Requirements in Other Democracies
Appendix 2: Average Age of Congress Since 1949
Notes
Index