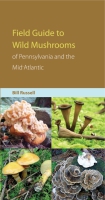 Field Guide to Wild Mushrooms of Pennsylvania and the Mid-Atlantic
Copyright: 2006
Dimensions: 4.5 x 9
Page Count: 248 pages
Illustrations: 101 color/4 b&w illustrations/1 map
Paperback ISBN: 978-0-271-02891-0
Series Name: Keystone Books®
Paperback Edition: $26.95
Website Sale Price: $18.87, You save 30%
Join Bill Russell on a hunt for the elusive morel mushroom on this WPSU, Public Radio Podcast. link
"This small and convivial volume is packed with stories, lore, reminiscences, humor, and, best of all, practical advice. If you want to collect mushrooms—for the table, or simply to learn about these fascinating life forms—this book is indispensable."
"This excellent guide to mushrooms will be useful far beyond the region in the title. Overall, a delightful treatment."
To most Americans, mushrooms are the brown lumps in the soup one uses to make a tuna casserole, but to a select few, mushrooms are the abundant yet often well-hidden delicacies of the forests. In spite of their rather dismal reputation, most wild mushrooms are both edible and delicious, when prepared properly. From the morel to the chanterelle and the prolific and aptly named chicken of the woods, mushrooms can easily be harvested and enjoyed, if you know where to look and what to look for. Bill Russell's Field Guide to the Wild Mushrooms of Pennsylvania and the Mid-Atlantic helps the reader learn just that—specifically for the often-neglected East Coast mushrooms of the United States and Canada.
Suited to both the novice and the experienced mushroom hunter, this book helps the reader identify mushrooms with the use of illustrations, descriptions, and environmental observations. Russell's fifty years of experience in hunting, studying, and teaching about wild mushrooms have been carefully distilled into this easy-to-use and well-designed guide. The book is divided into the four seasons, each with its unique mushroom offerings. Each mushroom section includes a detailed description, information about the mushroom's biology, tips on where the mushroom is most likely to be found, and a short "nutshell" description for quick reference. The book also includes color photographs of each of the mushrooms described.
Russell's Field Guide to the Wild Mushrooms of Pennsylvania and the Mid-Atlantic shows the reader not only how to identify the most common mushrooms found in the region but also how to avoid common copycats—and what to do with the mushrooms once they're identified and harvested. With both color illustrations and insightful descriptions of one hundred of the area's most common mushrooms, Field Guide is an indispensable reference for the curious hiker, the amateur biologist, or the adventurous chef.
Contents
Preface
Acknowledgments
1. Mushroom Basics
2. One Hundred Pennsylvania Mushrooms
Spring Mushrooms
Summer Mushrooms
Fall Mushrooms
Winter Mushrooms
3. Edible and Non-Edible Mushrooms
4. Mushrooms in the Kitchen
References
Index
Other Ways to Acquire
Buy from Amazon.com

Buy from an Independent Bookstore
Buy from Powell's Books
Buy from Barnes and Noble.com
Find in a Library
Get the
Kobo Edition
Get the
iBook Edition
Join
Sign up for e-mail notifications about new books and catalogs!
Related Subjects
Also of Interest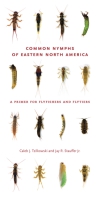 A Primer for Flyfishers and Flytiers