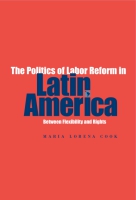 The Politics of Labor Reform in Latin America
Between Flexibility and Rights
Copyright: 2007
Dimensions: 6 x 9
Page Count: 248 pages
Hardcover ISBN: 978-0-271-02929-0
Paperback ISBN: 978-0-271-02930-6
"This book offers the best study of the evolution of labor laws in Latin America in the current era of democratic politics and neoliberal economics. Its insightful framework and voluminous information for six important countries will appeal to political scientists, sociologists, and historians."
"This book is one of the few good, comparative studies of the politics of labor law reform. Besides providing a rich and historically informed description of how labor laws have evolved in six Latin American countries, it links this evolution to broader changes such as economic opening and democratization. Because it is so accessibly written, it will be a valuable resource not only for scholars and students but also for practitioners working in labor law reform and international labor standards."
"This volume ably examines the evolution (and absence) of labor protections in Latin America in clear language accessible to anyone interested in the politics of globalization."
"Cook . . . has produced a valuable, comprehensive compendium of contemporary reforms of labor codes—as they amend the powers of unions and alter the bargaining clout of employers versus individual workers—in six Latin American nations. Her basic thesis is unassailable."
"Maria Lorena Cook's new monograph not only provides an essential corrective to the more exaggerated claims of analysts on both sides of the proverbial divide but also simultaneously makes an invaluable contribution to the literature on labor politics more generally."
"Maria Lorena Cook offers the first comprehensive and comparative discussion of the politics of labor reform in a thorough and well-documented, if at times overly detailed, account of attempts at reform in six countries organized into pairs—Argentina and Brazil, Chile and Peru, and Mexico and Bolivia."
During the 1990s, governments, employers, and international agencies pressed for greater flexibility in labor regulations throughout much of Latin America. In this comparative study of six Latin American countries, Maria Lorena Cook shows why these common pressures for flexibility led to varied labor reform outcomes. Her examination of the role of organized labor in shaping reform highlights the conditions under which labor can still wield power despite a decline in overall strength.
Cook employs historical case studies and paired comparisons to analyze the political dynamics that led to moderate levels of labor reform in Argentina and Brazil, extensive change in Chile and Peru, and no reform in Mexico and Bolivia. Her book identifies the array of factors—labor movement strategies, democratization and economic opening, international pressures, legal frameworks, and political legacies—that determine whether labor reforms are more likely to stress flexibility or rights.
Contents
List of Tables
Acknowledgments
List of Acronyms
1. The Politics of Labor Reform in Latin America
2. Directions in Labor Reform: A Regional Overview
3. Legacies of State Corporatism: Argentina and Brazil
4. Legacies of Radical Regimes: Chile and Peru
5. Legacies of Revolution: Mexico and Bolivia
6. The Future of Labor Reform: Between Flexibility
and Rights
References
Index
Other Ways to Acquire
Buy from Amazon.com

Buy from an Independent Bookstore
Buy from Powell's Books
Buy from Barnes and Noble.com
Get a License to Reuse
Find in a Library
Get the
Google Play Edition
Join
Sign up for e-mail notifications about new books and catalogs!
Related Subjects
Also of Interest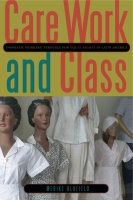 Domestic Workers' Struggle for Equal Rights in Latin America