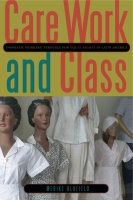 Care Work and Class
Domestic Workers' Struggle for Equal Rights in Latin America
Copyright: 2012
Dimensions: 6 x 9
Page Count: 200 pages
Hardcover ISBN: 978-0-271-05327-1
Paperback ISBN: 978-0-271-05328-8
Hardcover Edition: $67.95
Paperback Edition: $30.95
Care Work and Class was awarded the 2013 National Women's Studies Association Sara A. Whaley Book Prize.
"As Blofield incisively chronicles, until recently, household servants and nannies, who compose 15 percent of the economically active female population in Latin America, were systematically denied basic labor protections. But in country after country, their advocates have improved their lot by making good use of democratic processes."
"Blofield offers a powerful corrective to the persistent invisibility of domestic workers—one [of] the most important sectors for female employment in Latin America—in existing labor and Latin American studies. In this empirically-rich study of how and why formally democratic states have recently passed important legislation to protect the labor rights of domestic workers, Blofield also makes a passionate normative case for ending legal discrimination against domestic workers throughout the region."
"Blofield has created an impressive and comprehensive addition to our understanding of the politics behind recognition, legislative struggles of marginalized workers and contemporary inequality and class in Latin America, when fought for in the legislature, lived out on the street and fully realised in the home."
"This book explores a long-neglected topic at the intersection of class and gender inequalities in Latin America: the struggle for equal rights by women employed as domestic workers. Merike Blofield dissects the multiple forms of discrimination and exploitation to which female domestic workers are subjected, and she analyzes their efforts—and those of their political allies—to secure legal reforms that recognize basic rights in Bolivia, Chile, Costa Rica, and Uruguay. Her study is a major contribution to the scholarly understanding of the politics of inequality in Latin America, and it is an essential starting point for anyone who wants to understand the potential for change in highly unequal class and gender relations."
"Merike Blofield's well-crafted book tackles an understudied yet highly relevant topic, offering a finely nuanced analysis of why domestic workers' rights are ignored despite decades of democracy in Latin America. Care Work and Class breaks new ground by revealing the conditions under which legal reform occurs, but it also shows when and why laws that protect domestic workers are actually enforced. The book combines empirical richness with careful comparative analysis and is crucial reading for anyone interested in the politics of equality policies in Latin America and beyond."
"Merike Blofield's superb study fills an exceptionally large hole in the broader literatures on inequality and gender and politics in Latin America, which have almost entirely ignored domestic workers. Providing both a panoramic overview of the inequalities faced by Latin America's most exploited class and four rich case studies, Blofield shows the importance of organization from below, frames that resonate, and political opportunities for success in the fight for equal labor rights. This timely study gives us valuable insights into what the future holds for the almost entirely female and ethnically marginalized domestic workers of Latin America and for the politics of care."
"This book not only contributes to but also helps unite several burgeoning bodies of scholarship, including the literature on gender (and to a lesser degree ethnic) politics in Latin America, the literature on labor law reform and enforcement in Latin America, and the broader literature on social protection regimes in the region. It pays attention to an important population that has rarely been studied (i.e., domestic workers), and it presents a wholly new body of evidence derived from fieldwork in four countries."
"Overall, [Merike Blofield] does an excellent job of highlighting a significant challenge in Latin America—one that has been overlooked in related literature—while putting it in a regional and historical context."
"In Care Work and Class, political scientist Merike Blofield examines the systematic exclusion of domestic workers from labor protections across Latin America and the process by which a number of countries have moved toward equal treatment. From the first page, I was immediately drawn into this book and wanted to read more. The introduction and first chapter are brilliantly written, deftly moving between describing the uniqueness of the Latin American context and demonstrating the relevance of this case far beyond the borders of the region, between providing an overview of Latin America as a region and attending to national differences, and between making a compelling argument for the particularities of the case of domestic work and an equally convincing case that there are important insights about a growing range of care occupations to be gained from an examination of domestic service. The first section provides a rich intersectional analysis of the position of domestic workers in the labor market as well as their exclusion from a number of potentially relevant social movements—in particular, movements for women's rights, indigenous rights, and labor rights. In the second section, Blofield presents detailed case studies of four countries that have achieved full or partial equality for domestic workers. Her conclusion includes insights for care scholars as well as for scholars of social movements who are interested in the central question of the book: in the face of such an overwhelming imbalance of power and resources, when do the interests of domestic workers win over those of their employers?"
Despite constitutions that enshrine equality, until recently every state in Latin America permitted longer working hours (in some cases more than double the hours) and lower benefits for domestic workers than other workers. This has, in effect, subsidized a cheap labor force for middle- and upper-class families and enabled well-to-do women to enter professional labor markets without having to negotiate household and care work with their male partners. While elite resistance to reform has been widespread, during the past fifteen years a handful of countries have instituted equal rights. In Care Work and Class, Merike Blofield examines how domestic workers' mobilization, strategic alliances, and political windows of opportunity, mostly linked to left-wing executive and legislative allies, can lead to improved rights even in a region as unequal as Latin America. Blofield also examines the conditions that lead to better enforcement of rights.
Contents
List of Tables
Preface and Acknowledgments
List of Acronyms
Introduction
1 Domestic Workers in Latin America Toda
2 Overcoming Elite Resistance
3 Working in Chronic Informality
4 Bolivia and Costa Rica: Social Mobilization and Reform from the Bottom Up
5 Uruguay and Chile: Basic Universalism Versus Top-Down Incrementalism
Conclusion
Notes
References
Index