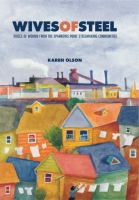 Wives of Steel
Voices of Women from the Sparrows Point Steelmaking Communities
Copyright: 2005
Dimensions: 6 x 9
Page Count: 228 pages
Illustrations: 20 b&w illustrations
Hardcover ISBN: 978-0-271-02685-5
Paperback ISBN: 978-0-271-05860-3
Hardcover Edition: $61.95
Paperback Edition: $25.95
"Wives of Steel addresses a key failure of most studies of industrial communities. Too often scholars assume that male-dominated industries and their communities are shaped by men who hold the industrial jobs. By placing women at the forefront of the Sparrows Point story, Olson shows how women experienced deindustrialization differently than men. Forced to join the workforce to help families survive the loss of well-paying union jobs, many women discovered the rewards of increased independence and autonomy. The result is a more complicated, and more persuasive, picture of America's postindustrial communities. Wives of Steel will find an eager audience among labor, women's, community studies scholars; students; and the general public."
"Wives of Steel makes a compelling and sure-to-be-noticed contribution to a very rich and lively literature on the community experience of deindustrialization. Employing rich ethnographic and interview data, Olson demonstrates forcefully the need for a more gendered appreciation of the impact of large-scale economic transformation."
"Olson examines, within the context of a manufacturing community, the profound social changes brought about by economic upheaval. After reading her book, you'll never hear news about downsizing and lay-offs as simply an economic abstraction."
"In all, Olson's study is an informative, rigorous, and interesting exploration of a complex workplace community over time."
"[Olson's] findings are an important contribution to debates about the postindustrial economy."
During its heyday in the 1950s and 1960s, the Bethlehem Steel mill at Sparrows Point near Baltimore was one of the world's largest steel plants, employing as many as 30,000 workers. But these glory years were short-lived, as the American steel industry soon collapsed, taking with it the high-income industrial jobs that many Sparrows Point workers had come to enjoy. This familiar tale of decline in America's industrial heartland is only part of the story, however. In response to downsizing and job loss at Sparrows Point, many women entered the workforce to fulfill the needs of their families living in the adjacent communities of Turners Station and Dundalk. Wives of Steel tells the story of these women who broke traditional gender roles and, in the process, contributed to the economic survival of their communities.
Wives of Steel is based on more than eighty formal interviews conducted over a fifteen-year period with women and some men, both white and black, all of whom were part of Sparrows Point as workers, spouses, or longtime residents of the local communities. Through the stories they tell, we see how a male-dominated industry has influenced personal, family, and social experiences over several generations. We also see the distinct differences and surprising similarities between the lives of black and white women, which often reflect the complicated relationships among black and white steelworkers in the plant.
Deindustrialization has transformed many of America's cities and communities, often in devastating ways. For women in particular, the changes in family and work life have been far more complex and in many ways more positive in their consequences than many studies have led us to expect. Combining consummate research with vivid firsthand accounts, Wives of Steel tells a story that continues to be played out in communities across America as working-class families are forced to cope with a globalizing economy.
Contents
Introduction
1. Sparrows Point, Turners Station, and Dundalk: The History of the Mill's Communities
2. The Gendered World of Steel: It's a Man's World Inside the Sparrows Point Mill
3. Boarders and the Long Turn in a Company Town: Sparrows Point Wives, 1887–1945
4. The Family Works the Schedule: Steelworkers' Wives, 1945–1970
5. Women Steelworkers at the Point: Interlopers in a Man's World
6. Deindustrialization at Sparrows Point: Disappearance of the Breadwinner-Homemaker
7. Renegotiating Families with Two Breadwinners: Partnership and Divorce
8. A Larger Circle of Neighbors: Deindustrialization and the Web of Class, Race, Gender, and Location
Conclusion
Bibliography
Index