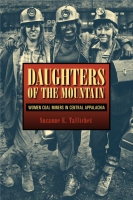 Daughters of the Mountain
Women Coal Miners in Central Appalachia
Copyright: 2006
Dimensions: 6 x 9
Page Count: 216 pages
Hardcover ISBN: 978-0-271-02903-0
Paperback ISBN: 978-0-271-02904-7
Series Name: Rural Studies
"This new book contains a wealth of information about work experiences and work relations of several women who entered coal mining as an occupation."
"Her writing is elegant and compassionate. . . . Tallichet's study will be a valuable addition to the literature exploring the nature of our socially constructed world, the ways in which we are assigned our place and the small acts of resistance, which cause the 'normal' to be adjusted to the complexity of human life."
"The book is very well written, and Tallichet is careful to substantiate her claims with the rich data she collected over fifteen years. She treats her subjects with respect and recognizes the tensions, contradictions and fault lines in their collective accounts of working in the mines. This is the work of a seasoned social researcher."
"The well-written and interesting stories provide a picture of women who have struggled to succeed in a very patriarchal workplace."
Much has been written over the years about life in the coal mines of Appalachia. Not surprisingly, attention has focused mainly on the experiences of male miners. In Daughters of the Mountain, Suzanne Tallichet introduces us to a cohort of women miners at a large underground coal mine in southern West Virginia, where women entered the workforce in the late 1970s after mining jobs began opening up for women throughout the Appalachian coalfields.
Tallichet's work goes beyond anecdotal evidence to provide complex and penetrating analyses of qualitative data. Based on in-depth interviews with female miners, Tallichet explores several key topics, including social relations among men and women, professional advancement, and union participation. She also explores the ways in which women adapt to mining culture, developing strategies for both resistance and accommodation to an overwhelmingly male-dominated world.
Contents
Preface
Introduction
1. Digging In: Coping with Sexualized Work Relations
2. From Red Cap to Coal Miner: Adaptation and Advancement Underground
3. Ours in Solidarity: Women Miners and the UMWA
4. Over the Long Haul: Accommodation and Resistance to the Culture of Coal Mining
Epilogue
Appendix: Fieldwork and Profiles of the Study
References
Index
Other Ways to Acquire
Buy from Amazon.com

Buy from an Independent Bookstore
Buy from Powell's Books
Buy from Barnes and Noble.com
Find in a Library
Get the
Kindle Edition
Get the
Google Play Edition
Join
Sign up for e-mail notifications about new books and catalogs!
Related Subjects
Also of Interest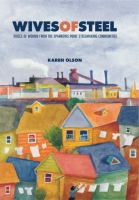 Voices of Women from the Sparrows Point Steelmaking Communities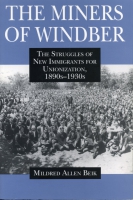 The Struggles of New Immigrants for Unionization, 1890s-1930s
This book is a part of the Association of American University Presses'
Books for Understanding: Mining
book list, created to help all of us better understand the world we live in.
Knowledge, Not just information