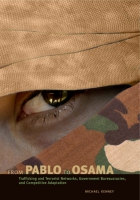 From Pablo to Osama
Trafficking and Terrorist Networks, Government Bureaucracies, and Competitive Adaptation
Copyright: 2006
Dimensions: 6 x 9
Page Count: 312 pages
Hardcover ISBN: 978-0-271-02931-3
Paperback ISBN: 978-0-271-02932-0
Hardcover Edition: $51.95
Paperback Edition: $30.95
"Kenney has written an exciting, informative, and practically useful book. He uses organization theoretic concepts to explore and illuminate rich empirical data and provide insights relevant to important policy issues. This is a rare combination reminiscent of Diane Vaughan's The Challenger Launch Decision and Lynn Eden's Whole World on Fire. Specifically, Kenney examines the relationship between organizational structures and organizational learning in the context of organizations that engage in and fight against terrorism and drug smuggling. The insight he provides about the strengths and weaknesses of these organizations provides the basis for new ways of thinking about policy in these important domains. The book is a real treat to read."
"This is an impressive book. It applies organizational theory to understand the dynamic relationships within two little-understood sets of complex, mutually dependent enterprises. The first set pairs narcs and narcos (or Colombian drug trafficking cartels and U.S. and Colombian drug enforcement organization). The second set looks at terrorist organizations, particularly Al Queda and U.S. and international counter-terror organizations. Kenney shows how drug cartels and terrorist organizations continually adapt to the counter-narcotics measures and anti-terrorist forces. Competitive adaptation means that apparent "success" by law enforcement agencies or others is generally short-lived. The conceptual framework is very useful—indeed penetrating and necessary—for all current and future scholars and policy makers concerned with these issues."
"The United States has struggled to win its wars on drugs and terror. Why do our adversaries always seem to be one step ahead? Michael Kenney provides an original and provocative answer to the question of why the ability of drug cartels and terrorist groups to learn, adapt, and move quickly surpasses ours. Our technical and military advantages are not enough in a contest that rewards agility and information superiority. This book is an important contribution to our understanding not just of the adversary but of the limitations of our response."
"Kenney has written a remarkable and highly readable book that will be of interest to a wide ranging audience . . . it will be useful to sociologists, industrial and organizational scholars, and others who want to better understand the particulars of illicit networks, how they are organized, how they achieve reliability, and how and why they are able to persist. It also will be useful to public management scholars and policy-makers who are interested in better understanding their own practices and how they can be more successful in creating reliable outcomes."
"From Pablo to Osama is a well-researched and well-organized book that is written in clear, expressive language. It will be of interest to practitioners and scholars alike. . . . Kenney has made an important contribution to the literature analyzing the organization and operation of illicit networks and the governmental structures established to protect society from them."
"Kenney's study is riveting, important, and an original contribution that is a must-read for those attempting to understand the structure and identity of criminal networks engaged in terrorism and transnational organized crime. It provides novel insight into why law enforcement will keep losing until they are able to learn and openly reflect on their activities in the same way that criminal networks do."
"Kenney provides rich details and tells great stories, tying them all together with enough theory and policy relevance to keep the reader interested."
"Kenney's From Pablo to Osama is among the most powerful books ever published on the topic of drug trafficking. . . . This book is extraordinary. For those perhaps expecting technical network analysis and arid theory, this book is a relief: it is beautifully and clearly written, so that even a layman (or policeman) could easily grasp its fine-tuned integration of theory and evidence. This is real-life social science. It brings balanced perspectives to topics usually clouded by superficial sensationalism."
"This is the most important theoretical book on terrorism published in the last year. The theory is informed, in an inductive way, by intensive field research with actual drug traffickers, who went beyond (and refuted) conventional wisdom about drug trafficking."
"In a little-known but important work, From Pablo to Osama, Michael Kenney, an American academic, brilliantly demonstrates this. Kenney, a fluent Spanish speaker, worked on Colombian drug networks for a decade before applying his research to Islamic militants. Kenney's conclusions are interesting and important."
From Pablo to Osama is a comparative study of Colombian drug-smuggling enterprises, terrorist networks (including al Qaeda), and the law enforcement agencies that seek to dismantle them. Drawing on a wealth of research materials, including interviews with former drug traffickers and other hard-to-reach informants, Michael Kenney explores how drug traffickers, terrorists, and government officials gather, analyze, and apply knowledge and experience. The analysis reveals that the resilience of the Colombian drug trade and Islamist extremism in wars on drugs and terrorism stems partly from the ability of illicit enterprises to change their activities in response to practical experience and technical information, store this knowledge in practices and procedures, and select and retain routines that produce satisfactory results. Traffickers and terrorists "learn," building skills, improving practices, and becoming increasingly difficult for state authorities to eliminate. The book concludes by exploring theoretical and policy implications, suggesting that success in wars on drugs and terrorism depends less on fighting illicit networks with government intelligence and more on conquering competency traps—traps that compel policy makers to exploit militarized enforcement strategies repeatedly without questioning whether these programs are capable of producing the intended results.
Contents
Preface
Acknowledgments
Introduction: Clandestine Actors and Competitive Adaptation
1. The Architecture of Drug Trafficking
2. How Narcos Learn
3. How "Narcs" Learn
4. Competitive Adaptation: Trafficking Networks Versus Law Enforcement Agencies
5. How Terrorists Learn
6. Competitive Adaptation Counterterrorist Style
Conclusion: Beyond the Wars on Drugs and Terrorism
Notes
Selected Bibliography
Index
Other Ways to Acquire
Buy from Amazon.com

Buy from an Independent Bookstore
Buy from Powell's Books
Buy from Barnes and Noble.com
Find in a Library
Get the
Kindle Edition
Get the
Google Play Edition
Join
Sign up for e-mail notifications about new books and catalogs!
Related Subjects
Also of Interest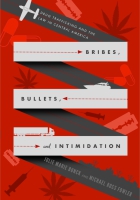 Drug Trafficking and the Law in Central America
This book is a part of the Association of American University Presses'
Books for Understanding: Terrorism
book list, created to help all of us better understand the world we live in.
Knowledge, Not just information