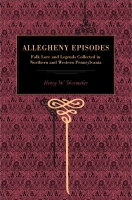 Allegheny Episodes
Folk Lore and Legends Collected in Northern and Western Pennsylvania
Copyright: 1922
Dimensions: 5 x 8
Page Count: 380 pages
Illustrations: 22 b&w illustrations/
Paperback ISBN: 978-0-271-03000-5
Series Name: Metalmark
Paperback Edition: $25.95
This book is available open access. Read it here.
---
Allegheny Episodes is the eleventh of twelve volumes in Henry Shoemaker's Pennsylvania Folklore Series. Published in 1922—years before Shoemaker's time as Pennsylvania's first state folklorist—Allegheny Episodes includes twenty-five stories written in his typical literary style. Some tales recall famous hunters and loggers who made their way through Pennsylvania's rough country; others center on rivalry and lost love, ghosts and other supernatural phenomena, and the wilderness itself.
Shoemaker saw Pennsylvania's folklore as a melding of Native American and European practices. Though his methods have been contested over the years, Shoemaker's work as a folklorist stemmed from his deep affinity for Pennsylvania's fading wilderness and his desire to capture the heart of its people through the spoken and written word.
View a digital version of this book online at the Penn State University Libraries website.