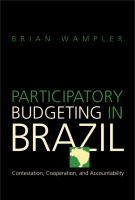 Participatory Budgeting in Brazil
Contestation, Cooperation, and Accountability
Copyright: 2007
Dimensions: 6 x 9
Page Count: 328 pages
Illustrations: 1 map
Hardcover ISBN: 978-0-271-03252-8
Paperback ISBN: 978-0-271-03253-5
"With its comparative analysis of eight cases of participatory budgeting (PB) in Brazil, varying from success to failure, Wampler's book is a significant contribution to a literature heretofore dominated by single-case or two-case analyses (usually of only successful cases). His argument that divergent outcomes can be explained by analyzing political strategies of PB implementors and organized civil society participants within the real-world constraints of divergent local politics is helpful in avoiding 'one design fits all' conclusions."
"Wampler provides a compelling and original analysis of the democratic experiment known as participatory budgeting (PB). Drawing on field research undertaken in eight Brazilian municipalities, Wampler has developed a new framework for explaining why PB sometimes fails, sometimes succeeds, and sometimes yields mixed results. The author shows why enthusiasts should be cautious in their efforts to transfer PB to other contexts. This book will appeal to a broad audience of scholars and practitioners."
"An essential text for the curious and discerning reader of one of the most important current innovations in Latin American democracy. . . . The text offers rich contributions to our conceptual understanding of state-society relations, exploring the nature of contestation and cooperation within PB, and the carefully constructed comparisons of observations in eight different municipalities within Brazil offer systematic explanations for PB outcomes. The lessons Wampler draws from his comparisons will be useful to those interested in the public policy of participation, an element that both developed and developing democracies have struggled with over the years. The text also offers valuable new details on well-known cases, such as Porto Alegre, the original home of PB, as well as explanations and observations of less well-known cases that turned out poorly, such as Blumenau."
"Brian Wampler's incisive comparative intranational study of the implementation of participatory budgeting (PB) sheds new critical light on this much-celebrated institution, now supported by the World Bank and UN Habitat and adopted in 40 countries and more than 250 Brazilian municipalities. His richly detailed account of the complex workings of the PB process shows conclusively that while it can help deepen democratization, its concrete political results have been mixed. Wampler's nuanced findings and analytical insights about the promise and problems of PB make this a must-read for researchers, students, policy makers, rights advocates, and development practitioners alike."
"Wampler untangles the political and social factors that explain the connection between executive commitment and the success of participatory budgeting. . . . [He] makes a major contribution by illuminating the composition of civil society organizations that advance participatory democratic institutions."
As Brazil and other countries in Latin America turned away from their authoritarian past and began the transition to democracy in the 1980s and 1990s, interest in developing new institutions to bring the benefits of democracy to the citizens in the lower socioeconomic strata intensified, and a number of experiments were undertaken. Perhaps the one receiving the most attention has been Participatory Budgeting (PB), first launched in the southern Brazilian city of Porto Alegre in 1989 by a coalition of civil society activists and Workers' Party officials. PB quickly spread to more than 250 other municipalities in the country, and it has since been adopted in more than twenty countries worldwide. Most of the scholarly literature has focused on the successful case of Porto Alegre and has neglected to analyze how it fared elsewhere.
In this first rigorous comparative study of the phenomenon, Brian Wampler draws evidence from eight municipalities in Brazil to show the varying degrees of success and failure PB has experienced. He identifies why some PB programs have done better than others in achieving the twin goals of ensuring governmental accountability and empowering citizenship rights for the poor residents of these cities in the quest for greater social justice and a well-functioning democracy. Conducting extensive interviews, applying a survey to 650 PB delegates, doing detailed analysis of budgets, and engaging in participant observation, Wampler finds that the three most important factors explaining the variation are the incentives for mayoral administrations to delegate authority, the way civil society organizations and citizens respond to the new institutions, and the particular rule structure that is used to delegate authority to citizens.
Contents
List of Tables and Figures
List of Acronyms
Acknowledgments
1. Extending Citizenship and Accountability Through Participatory Budgeting
2. Participatory Budgeting: Rules of the Game
3. Authority, Negotiation, and Solidarity: PB Delegates' Attitudes and Behaviors
4. Porto Alegre and Ipatinga: The Successful Delegation of Authority and the Use of Contentious Politics (Among Friends)
5. Blumenau and Rio Claro: Weak Mayoral Support and the Absence of Contentious Politics
6. São Paulo and Santo André: Co-optation, Limited Delegation, and Signaling
7. Belo Horizonte and Recife: Contentious Politics and Mayoral Shifts
8. Deepening Democracy Through the Expansion of Citizenship Rights and Accountability
Appendix
Bibliography
Index
Other Ways to Acquire
Buy from Amazon.com

Buy from an Independent Bookstore
Buy from Powell's Books
Buy from Barnes and Noble.com
Find in a Library
Get the
Google Play Edition
Join
Sign up for e-mail notifications about new books and catalogs!
Related Subjects
Also of Interest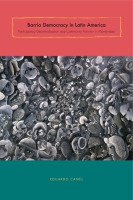 Participatory Decentralization and Community Activism in Montevideo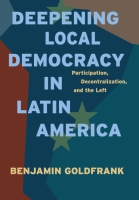 Participation, Decentralization, and the Left