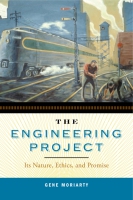 The Engineering Project
Its Nature, Ethics, and Promise
Copyright: 2008
Dimensions: 6 x 9
Page Count: 224 pages
Hardcover ISBN: 978-0-271-03254-2
Paperback ISBN: 978-0-271-03255-9
Paperback Edition: $29.95
"This genuinely original book contributes significantly to contemporary efforts to rethink the human-made world through an extended engagement with the philosophical examinations of technology found in the work of Albert Borgmann, Hubert Dreyfus, Andrew Feenberg, Jürgen Habermas, and others. It constitutes a thoughtful, reflective engineer's effort to deepen engineering and engineering education discussion in ways that go beyond apology or promotion. It will be of value not only to those in engineering, engineering studies, and the philosophy of technology, but also to historians of technology, to science and technology studies scholars, and to any informed citizen concerned about the future shape and character of our technoscientific world. I recommend it for all of us."
"I think this will make a major contribution to the sub-field of philosophy of technology that devotes itself to the philosophy of engineering—which I think ought to be the heart of philosophy of technology. Up to now there has been almost nothing available in that field. And it is a unique and original interpretation from within the engineering profession."
"He does an admirable job in considering the contributions of engineering within a philosophical and ethical perspective. The book has a good index."
We all live our daily lives surrounded by the products of technology that make what we do simpler, faster, and more efficient. These are benefits we often just take for granted. But at the same time, as these products disburden us of unwanted tasks that consumed much time and effort in earlier eras, many of them also leave us more disengaged from our natural and even human surroundings. It is the task of what Gene Moriarty calls focal engineering to create products that will achieve a balance between disburdenment and engagement: "How much disburdenment will be appropriate while still permitting an engagement that enriches one's life, elevates the spirit, and calls forth a good life in a convivial society?"
One of his examples of a focally engineered structure is the Golden Gate Bridge, which "draws people to it, enlivens and elevates the human spirit, and resonates with the world of its congenial setting. Humans, bridge, and world are in tune." These values of engagement, enlivenment, and resonance are key to the normative approach Moriarty brings to the profession of engineering, which traditionally has focused mainly on technical measures of evaluation such as efficiency, productivity, objectivity, and precision. These measures, while important, look at the engineered product in a local and limited sense. But "from a broader perspective, what is locally benign may present serious moral problems," undermining "social justice, environmental sustainability, and health and safety of affected parties." It is this broader perspective that is championed by focal engineering, the subject of Part III of the book, which Moriarty contrasts with "modern" engineering in Part I and "pre-modern" engineering in Part II.
Contents
Preface and Acknowledgments
Introduction
Part I: The Modern Engineering Enterprise
1. Process
2. Process Ethics
3. Colonization
Part II: The Premodern Engineering Endeavor
4 Person
5. Virtue Ethics
6. Contextualization
Part III: The Focal Engineering Venture
7. Product
8. Material Ethics
9. Balance
Index
Other Ways to Acquire
Buy from Amazon.com

Buy from an Independent Bookstore
Buy from Powell's Books
Buy from Barnes and Noble.com
Find in a Library
Get the
Kobo Edition
Get the
iBook Edition
Join
Sign up for e-mail notifications about new books and catalogs!
Related Subjects
Also of Interest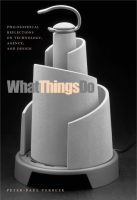 Philosophical Reflections on Technology, Agency, and Design