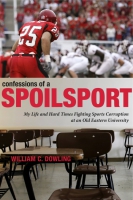 Confessions of a Spoilsport
My Life and Hard Times Fighting Sports Corruption at an Old Eastern University
Copyright: 2007
Dimensions: 6 x 9
Page Count: 216 pages
Illustrations: 10 b&w illustrations
Hardcover ISBN: 978-0-271-03293-1
Paperback ISBN: 978-0-271-05879-5
Hardcover Edition: $26.95
Paperback Edition: $25.95
Website Sale Price: $18.17, You save 30%
An op-ed by William Dowling appeared in the New York Times on October 28, 2007. To read the op-ed, click the link. An interview with Professor Dowling also appeared in The New York Times on September 26, 2007. To read the interview, click here.
Click here to read an interview with Professor Dowling published in Inside Higher Education.
"Universities exist to transmit understanding and ideals and values to students . . . not to provide entertainment for spectators or employment for athletes. . . . When I entered a much smaller Rutgers sixty years ago, athletics were an important but strictly minor aspect of Rutgers education. I trust that today's much larger Rutgers will honor this tradition from which I benefited so much."
"Read this book if you care about both sports and undergraduate education. Dowling is one of the most brilliant and dedicated teachers I know. He has been struggling for more than a decade to save the educational soul of Rutgers University. This book exposes the Faustian bargain university trustees and presidents make to field nationally competitive athletic teams.

"Dowling tells a sad and very personal story of the failed struggle at Rutgers, but readers at other institutions will have no difficulty in substituting the names of their own presidents and athletic directors. Dowling is not against athletics. He is for education."
"Big-time college athletics are helping to ruin higher education at Rutgers and elsewhere, writes insider and star professor of literature, William Dowling. In his personal story of involvement with athletics at Rutgers, Dowling pleads for Rutgers and other universities to become places that are student-centered and intellectually challenging."
"Even if you care not a fig about the Neanderthalization of our universities, you'll get a buzz out of Dowling's furious prose. Dude's got a chip on both shoulders and half a dozen angry beehives throbbing in his bonnet. . . . Spoilsport is the follow-up fans of the classic football book Friday Night Lights (which was about sports corruption in the football-rotted high schools of West Texas) have been waiting for."
"[Confessions of a Spoilsport] is, mostly, a well-argued diatribe, and a very useful one—perhaps the best overview of college-sports corruption published. It should be required reading, for education and sports writers, not to mention high school students pondering their college choices along with their financially fearful parents."
"Dowling provides evidence that will make the reader sit up and take notice. He writes well, providing clear, comprehensive evidence of the pitfalls of big-time athletics."
In 1998, Milton Friedman's statement drew national attention to Rutgers 1000, a campaign in which students, faculty, and alumni were resisting the takeover of their university by commercialized Division I-A athletics. Subsequently, the movement received extensive coverage in the New York Times, the Wall Street Journal, the Chronicle of Higher Education, Sports Illustrated, and other publications.
Today, "big-time" college athletics remains a hotly debated issue at Rutgers. Why did an old eastern university that had long competed against such institutions as Colgate, Columbia, Lafayette, and Princeton, choose, by joining the Big East conference in 1994, to plunge into the world of such TV-revenue-driven extravaganzas as "March Madness" and the Tostitos Fiesta Bowl? What is the moral for universities where big-time college sports have already become the primary source of institutional identity?
Confessions of a Spoilsport is the story of an English professor who, having seen the University of New Mexico sink academically in the period of a major basketball scandal, was galvanized into action when Rutgers joined the Big East. It is also the story of the Rutgers 1000 students and alumni who set out against enormous odds to resist the decline of their university—eviscerated academic programs, cancellation of minor sports, loss of the "best and brightest" in-state students to the nearby College of New Jersey—while tens of millions of dollars were being lavished on Division I-A athletics. Ultimately, however, the story of Rutgers 1000 is what the New York Times called it when Milton Friedman issued his ringing statement: a struggle for the soul of a major university.
Contents
Introduction
1. Lost in Loboland
2. The Birth of Rutgers 1000
3. The Friedman Statement
4. Warriors on the Web
5. The Coca-Cola University
6. Sportswriters in Wonderland
7. Sympathy for the Devil
8. "I Am an Alumni!"
9. The Hour of Victory
10. Requiem for Rutgers 1000
Epilogue: A View from the Banks
Appendix: The Rutgers Review Interview
Note on Sources
Acknowledgments
Index