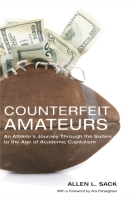 Counterfeit Amateurs
An Athlete's Journey Through the Sixties to the Age of Academic Capitalism
Copyright: 2008
Dimensions: 6 x 9
Page Count: 216 pages
Illustrations: 15 illustrations
Hardcover ISBN: 978-0-271-03368-6
Paperback ISBN: 978-0-271-05409-4
"Allen Sack has lived the dream and yet seen the nightmares of college sport. Understanding the demands upon athletes who also want educations, he seeks intercollegiate reform through athletes' rights."
"In Counterfeit Amateurs, Allen Sack craftily integrates his own experience as a high school and college (Notre Dame) football player with the larger story about the professionalization and perversion of intercollegiate athletics. The result is a compelling and enlightening tale about what has gone wrong and what can be done about it. Frankly, I couldn't put the book down."
"Allen Sack's engaging memoir is also a history of the efforts to reform big-time college sports over the past thirty years. Some day, readers of this book will wonder how anyone ever disagreed with him."
"Exploitation, hypocrisy, duplicity are harsh words yet precisely describe the workings of the NCAA and its member schools in their treatment of college revenue athletes, the young men and women upon whose backs this multibillion dollar college revenue sports empire rests. It is America's modern plantation.

Allen Sack has been the athlete's champion his entire working life. His personal story, beginning as a Notre Dame athletic scholarship football player, and his focused, patient, passionate efforts to change this shameful reality of the American sports scene are a terrific story. Counterfeit Amateurs explicitly lays out who the 'bad guys' are, how greed tears to shreds academic values, how the athletes are getting shafted, and what needs to be done."
"Allen thanks me in the book for suggesting that he write Counterfeit Amateurs—a memoir of his football playing experiences at Notre Dame and also a critique of the lamentable state of college sports. After I made the suggestion, I wondered whether he could pull it off, bringing these two different topics together and writing a good book. I am happy to report that he has written a superb book, lively and fascinating, and one that both entertains and educates. He writes about his amazing experiences at Notre Dame and he also convinces the reader that the college sports system is irretrievably broken. Moreover, he has a plausible solution to repair it. Everyone interested in college sports—participants, fans, and observers—should read this book."
"Counterfeit Amateurs: An Athlete's Journey through the Sixties to the Age of Academic Capitalism is an important book for anyone participating [in] . . . or studying big-time intercollegiate athletics. It is rare to find a book that seamlessly combines personal experiences, interviews with prominent college sport practitioners, and academic research into a forum that is both comprehensive and understandable. Though Sack's answers to the problems currently facing intercollegiate athletics may often not be 'popular,' there is no doubt that he thoroughly conveys his understanding of recent NCAA history and the importance of each issue to the book's readers."
With a Foreword by Ara ParseghianThe debate over big-time college sports, never far from the front pages, has once again moved from simmering to hot. Congress has been investigating the tax-exempt status of the NCAA in part because of questions about how commercialized college sports contribute to educational values. Athletes are challenging the NCAA on antitrust grounds to get a bigger share of the revenue. Against this backdrop, more faculty are beginning to be concerned about what is happening at their own universities and to the educational system as a whole as rampant commercialism further invades campus life through big-time sports.
A leader among faculty fighting back has been Allen Sack, a co-founder of the Drake Group whose writings and public appearances, including work as an expert witness, have gained him wide recognition as an outspoken advocate for athletic reform. This book brings together in a compelling way both his personal story of life as a highly recruited athlete out of high school and a football player at Notre Dame under legendary coach Ara Parseghian and his fight, since then, as a scholar-activist against what he calls the "academic capitalism" of the system under current NCAA rules.
Sack distinguishes his own position, as an advocate of athletes' rights, from the reformist stance of NCAA President Myles Brand, who believes that commercialized sport and education can peacefully coexist, and the "intellectual elitist" position of people like William Dowling, who would like to see big-time college sports kicked off campus altogether. It is a battle with high stakes for all concerned, not least the athletes whose exploitation by the system has been the motivating force for Sack's own campaign, now stretching over several decades.
Contents
Foreword by Ara Parseghian
Preface
Acknowledgments
Part I: College Football in the Sixties
1. Playing Football in Ara's Era
2. Scholastic Sports as a Pipeline to the Pros
3. The Game of the Century
Part II: Linking Sports and Politics
4. Politics, Protest, and the Athletic Revolution
5. Laying the Groundwork for Professional College Sports
6. Taking a Stand at Fort Apache
Part III: Shouting from the Ivory Tower
7. Building an Industry on Athletes' Backs
8. Fighting for Market Share in the 1990s
9. Inside the Billion-Dollar Beast
10. College Sports in the Age of Academic Capitalism
Suggested Reading
Other Ways to Acquire
Buy from Amazon.com

Buy from an Independent Bookstore
Buy from Powell's Books
Buy from Barnes and Noble.com
Find in a Library
Get the
Google Play Edition
Join
Sign up for e-mail notifications about new books and catalogs!
Related Subjects
Also of Interest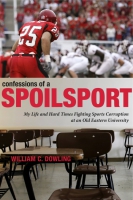 My Life and Hard Times Fighting Sports Corruption at an Old Eastern University