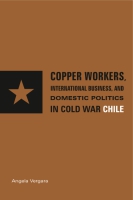 Copper Workers, International Business, and Domestic Politics in Cold War Chile
Copyright: 2008
Dimensions: 6 x 9
Page Count: 240 pages
Illustrations: 6 illustrations/2 maps
Hardcover ISBN: 978-0-271-03334-1
Paperback ISBN: 978-0-271-03335-8
"Vergara provides an easy-to-read and exhaustively researched account of the negotiations among labor unions, U.S. capital, and the state in Chile's strategic copper sector during the critical Cold War era. She demonstrates how outlawing of the Communist Party and mounting political conflict over the power of foreign capital shaped labor relations and the copper industry. An important contribution to our understanding of nationalism, state policies, and transnational capital."
"A solidly researched and well-written history of the least known of Chile's large copper mines. . . . A major original contribution to our understanding of Cold War Chile that demonstrates the centrality of copper miners, their unions, and leaders to Chile's social, economic, and political history."
In this book, Angela Vergara tells the story of the labor movement in Chile through the experiences of workers in copper mines owned by Anaconda, a major multinational corporation. Relying on archival sources, newspapers, and oral histories, she recounts the workers' economic, political, and social struggles over the forty-five-year period when the Cold War dominated politics.
The labor movement, Vergara argues, was a progressive force instrumental in the introduction of national reforms and the radicalization of politics. In Chile its role is critical to understanding the expansion of the welfare state in the 1950s, the introduction of social reforms in the 1960s, and the Chilean road to socialism in the early 1970s. The book reveals the historical origin of the implementation of neoliberal policies, the erosion of labor rights, and the emergence of the so-called Chilean economic model championed by the "Chicago boys." Many of the changes undertaken in the 1970s and 1980s, the book shows, had their impetus in the crisis of the import-substitution effort of the late 1950s.
Contents
Illustrations and Tables
Acknowledgments
Introduction
1. From Montana to Potrerillos
2. The World of Labor
3. Copper, Labor, and Political Repression, 1945–1952
4. Making a New Deal: Copper Laws, Modernization, and Workers' Rights, 1955–1958
5. Nationalism and Radicalization, 1958–1970
6. Experiencing Nationalization and Socialism, 1970–1973
Epilogue: Repression, Economic Transformations, and the Struggle for Democracy, 1973–1990s
Conclusion
Bibliography
Index
Other Ways to Acquire
Buy from Amazon.com

Buy from an Independent Bookstore
Buy from Powell's Books
Buy from Barnes and Noble.com
Find in a Library
Get the
Google Play Edition
Join
Sign up for e-mail notifications about new books and catalogs!
Related Subjects
Also of Interest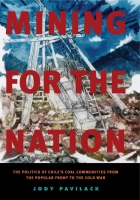 The Politics of Chile's Coal Communities from the Popular Front to the Cold War