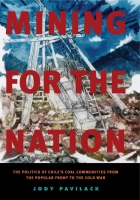 Mining for the Nation
The Politics of Chile's Coal Communities from the Popular Front to the Cold War
Copyright: 2011
Dimensions: 6 x 9
Page Count: 416 pages
Illustrations: 10 b&w illustrations/
Hardcover ISBN: 978-0-271-03769-1
Paperback ISBN: 978-0-271-03770-7
Hardcover Edition: $93.95
Paperback Edition: $41.95
Mining for the Nation is the winner of both the 2012 Bryce Wood Book Award presented by the Latin American Studies Association and the 2012 Thomas McGann Award presented by the Rocky Mountain Council for Latin American Studies.
"The research in Mining for the Nation is highly original. It fills a gap in Chilean labor and mining history, both in English and in Spanish. The book offers a reinterpretation of the Popular Front experience in Chile and the first serious book-length political history of the coal region and the role of the Communist Party there from the 1930s to 1952. Additionally, it serves as a very readable history of the complex connections among local, regional, national, and international politics in 1930s–1950s Chile."
"In Mining for the Nation, Jody Pavilack tells a complex story with commendable clarity. The book is well conceptualized, lucidly analyzed, and persuasively argued, with the support of extensive research in diverse local, national, and international primary and secondary sources, both public and private. Pavilack makes good use of recent literature on citizenship, on states of exception in Chile, and on the Cold War in Latin America. This is a book that every scholar of Chile and Latin American labor and the Left will want to have."
"[Jody Pavilack] does an excellent job of summarizing Chilean politics from the 1920s through the 1940s."
The dramatic story of Chile's coal miners in the mid-twentieth century has never before been told. In Mining for the Nation, Jody Pavilack shows how this significant working-class sector became a stronghold of support for the Communist Party as it embraced cross-class alliances aimed at defeating fascism, promoting national development, and deepening Chilean democracy. During the tumultuous 1930s and 1940s, the coal miners emerged as a powerful social and political base that came to be seen as a threat to existing hierarchies and interests. Pavilack carries the story through the end of World War II, when a centrist president elected with crucial Communist backing brutally repressed the coal miners and their families in what has become known as the Great Betrayal, ushering Cold War politics into Chile with force. The patriotic fervor and tragic outcome of the coal miners' participation in Popular Front coalition politics left an important legacy for those who would continue the battle for greater social justice in Chile in the coming decades.
Contents
List of Illustrations
Preface: Beginning at the End
Acknowledgments
List of Abbreviations
Introduction: Communists, Coal Miners, and Chilean Democracy
Part I Hopes and Promises
1. From Soldiers of Revolution to Citizen Workers
2. Challenging Exclusion: The Birth of the Popular Front in the Coal Region
3. From Tremors to Quakes: The Popular Front Wins the Presidency in 1938
Part II Collaboration and Conflict
4. Workers Contend with the Companies and the Popular Front Government, 1940–1942
5. "With a Bullet in His Heart and the Chilean Flag in His Hand": Police Shootings in Lota, October 1942
6. "Soldiers of Democracy": Collaboration and Conflict During World War II
7. General Strikes and States of Siege: Polarization in the Postwar Transition
Part III Rupture and Betrayal
8. "The People Call You Gabriel": Communist-Backed González Videla Reaches the Presidential Palace
9. The Great Betrayal: González Videla and the Coal Miners' Strike of October 1947
10. Democracy Under Siege: González Videla's "Damned Law," Internment Camps, and Mass Deportations
Conclusion: Coalition Politics in the History of Chilean Democracy
Bibliography
Index