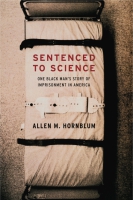 Sentenced to Science
One Black Man's Story of Imprisonment in America
Copyright: 2007
Dimensions: 6 x 9
Page Count: 232 pages
Illustrations: 16 b&w illustrations
Hardcover ISBN: 978-0-271-03336-5
Paperback ISBN: 978-0-271-05875-7
Hardcover Edition: $30.95
Paperback Edition: $24.95
"Sentenced to Science is a searing indictment of the criminal justice and medical communities that cavalierly used Philadelphia inmates as human guinea pigs for an array of unethical and dangerous experiments. The account of Eddie Anthony's days as a Holmesburg Prison test subject is one that readers will not soon forget."
"Sentenced to Science is a disturbing account of the physical and psychological sequelae of medical experimentation in a state prison in Philadelphia in the 1960s. Hornblum follows the troubled life of one prisoner, Butch, and draws heavily on the inmate's compelling first-person narrative. Given the current debate about the future of prison research, this book should be prescribed reading for bioethicists and policy makers alike."
"Allen Hornblum's book is a first for understanding the pain and suffering endured by prisoners at Holmesburg Prison in Philadelphia in their own anguished words. Every physician participating in human experimentation must read this book to learn of the fundamental violation of the human rights of prisoner subjects described so powerfully in this book."
"Hornblum effectively juxtaposes a frightening, graphic narrative of one non-aggressive, functionally illiterate prisoner's life, in the aftermath of continuing bouts with skin lesions, mental disorders, and extreme bowel problems (purportedly from jail experiments), with general background, producing a convincing condemnation of the practice of using prisoners as guinea pigs."
"[Allen Hornblum's] reliance on Edward Anthony's first-person account of suffering as a test subject while incarcerated in Philadelphia's Holmesburg Prison makes for a compelling, dramatic narrative."
From 1951 until 1974, Holmesburg Prison in Philadelphia was the site of thousands of experiments on prisoners conducted by researchers under the direction of University of Pennsylvania dermatologist Albert M. Kligman. While most of the experiments were testing cosmetics, detergents, and deodorants, the trials also included scores of Phase I drug trials, inoculations of radioactive isotopes, and applications of dioxin in addition to mind-control experiments for the Army and CIA. These experiments often left the subject-prisoners, mostly African Americans, in excruciating pain and had long-term debilitating effects on their health. This is one among many episodes of the sordid history of medical experimentation on the black population of the United States.
The story of the Holmesburg trials was documented by Allen Hornblum in his 1998 book Acres of Skin. The more general history of African Americans as human guinea pigs has most recently been told by Harriet Washington in her 2007 book Medical Apartheid. The subject is currently a topic of heated public debate in the wake of a 2006 report from an influential panel of medical experts recommending that the federal government loosen the regulations in place since the 1970s that have limited the testing of pharmaceuticals on prison inmates.
Sentenced to Science retells the story of the Holmesburg experiments more dramatically through the eyes of one black man, Edward "Butch" Anthony, who suffered greatly from the experiments for which he "volunteered" during multiple terms at the prison. This is not only one black man's highly personal account of what it was like to be an imprisoned test subject, but also a sobering reminder that there were many African Americans caught in the viselike grip of a scientific research community willing to bend any code of ethics in order to accomplish its goals and a criminal justice system that sold prisoners to the highest bidder.
Contents
Acknowledgments
1. "My Back Is on Fire"
2. "The Jungle"
3. "Bubble-Eyed Butch"
4. "Don't Serve Time; Let Time Serve You"
5. "He's Got a Body Like Marilyn Monroe"
6. "They Called Me Outer Limits"
7. "Fruit Up"
8. "He Still Has the Cork in His Ass!"
9. "Those Doctors Ain't Interested in You"
10. "I Tried My Best"
11. "I Was in Some Deep Shit Now"
12. "My Spiritual Awakening"
13. "It Was a Jihad"
14. "Feeling Death Blow Past My Face"
15. "A Righteous Life"
16. "Trying to Get a Little Justice"
Epilogue
Notes
Index
Other Ways to Acquire
Buy from Amazon.com

Buy from an Independent Bookstore
Buy from Powell's Books
Buy from Barnes and Noble.com
Find in a Library
Get the
Kobo Edition
Get the
Kindle Edition
Get the
iBook Edition
Join
Sign up for e-mail notifications about new books and catalogs!
Related Subjects
Also of Interest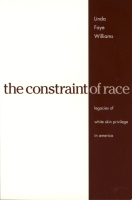 Legacies of White Skin Privilege in America