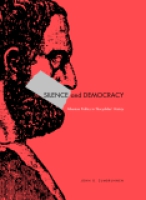 Silence and Democracy
Athenian Politics in Thucydides' History
Copyright: 2008
Dimensions: 6 x 9
Page Count: 208 pages
Hardcover ISBN: 978-0-271-03357-0
Paperback ISBN: 978-0-271-03358-7
Hardcover Edition: $46.95
Paperback Edition: $30.95
"John Zumbrunnen's book offers an inventive and provocative analysis not only of Thucydides' History but also of the political issues such as democracy, empire, and realism that continue to engage scholars and policy makers alike."
"In Silence and Democracy, John G. Zumbrunnen moves beyond the traditional approaches to silence in political studies. . . . Zumbrunnen's contribution would be appreciated by democratic theorists, as well as by scholars of ancient political thought. His reading of silence as presence challenges the hegemony of perspectives that have rendered silence absent from politics and political theory, and his rereading of Thucydides provides fresh insight into democratic politics in ancient Greece."
The role of elites vis-à-vis the mass public in the construction and successful functioning of democracy has long been of central interest to political theorists. In Silence and Democracy, John Zumbrunnen explores this theme in Thucydides' famous history of the Peloponnesian War as a way of focusing our thoughts about this relationship in our own modern democracy.
In Periclean Athens, according to Thucydides, "what was in name a democracy became in actuality rule by the first man." This political transformation of Athenian political life raises the question of how to interpret the silence of the demos. Zumbrunnen distinguishes the "silence of contending voices" from the "collective silence of the demos," and finds the latter the more difficult and intriguing problem. It is in the complex interplay of silence, speech, and action that Zumbrunnen teases out the meaning of democracy for Thucydides in both its domestic and international dimensions and shows how we may benefit from the Thucydidean text in thinking about the ways in which the silence of ordinary citizens can enable the domineering machinations of political elites in America and elsewhere today.
Contents
Acknowledgments
Introduction
1. Athenian Stasis and the Quiet of the Mob
2. The Silence of Hoi Athenaioi: Two Modes of Athenian Action in the History
3. Deliberative Action and Athenian "Character"
4. The Silence of the Demos and the Challenges of Political Judgment: On the "Decline" of Athenian Politics
5. Justice and Empire: Athenian Silence and the Representation of Athens Abroad
6. Athenian Silence and the Fate of Plataea
Conclusion: Thucydides for Democrats?
Bibliography
Index