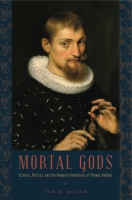 Mortal Gods
Science, Politics, and the Humanist Ambitions of Thomas Hobbes
Copyright: 2011
Dimensions: 6 x 9
Page Count: 344 pages
Illustrations: 4 b&w illustrations
Hardcover ISBN: 978-0-271-04891-8
Paperback ISBN: 978-0-271-04892-5
Hardcover Edition: $82.95
Paperback Edition: $34.95
Scott Horton of Harper's Magazine sat down with Ted H. Miller to discuss Mortal Gods. You can read that interview here.
"Ted Miller's Mortal Gods is a great book, historically rich and theoretically innovative. His argument that Hobbes's humanist mathematical science is aggressively creative rather than descriptive or prescriptive institutes a debate where there has tended to be the consensus of a dominant interpretation. In prose that is fresh and lively, this is a provocative and rewarding read."
"Ted Miller makes a persuasive, nuanced, and surprising case for leaving behind the view that Hobbes's development as a thinker proceeded in two or three distinct phases. Miller shows Hobbes's thought to be dynamically unified. . . . Hobbes's signal innovation was to have recognized the persuasive rhetorical power of mathematical reasoning among influential elites and seized upon it as a means for reforming philosophical inquiry. The combination accounts, in Miller's view, for the striking originality of Hobbes's political philosophy. Miller's deeply learned and richly detailed account offers an engaging portrait of Hobbes's intellectual and cultural milieu—from the mathematical debates of his day, to the grand court masques of the Stuart era, to the plastic arts of theater and architecture. Along the way, Miller offers solid correctives to Quentin Skinner's influential readings of Hobbes; engages the style, purposes, and effects of Hobbes's work more broadly; and offers potent reflections on the relations of humanism, modernity, and politics."
"This rigorously argued and thought-provoking book challenges various received views of Hobbes by means of a few deceptively simple, mutually reinforcing interpretive moves."
"For a latter-day audience, theology and mathematics are the thorniest branches of Hobbes's philosophy. Not only does Mortal Gods illuminate both but, more importantly, Miller establishes the connection between them and, by doing so, brings out the grandiosity of Hobbes's linkage of God and monarch."
"Miller exemplifies a new kind of historicism. . . . Mustering resources of erudition toward nonantiquarian ends, he helps to liberate Hobbes scholarship from methodological constraints that have grown increasingly confining."
According to the commonly accepted view, Thomas Hobbes began his intellectual career as a humanist, but his discovery, in midlife, of the wonders of geometry initiated a critical transition from humanism to the scientific study of politics. In Mortal Gods, Ted Miller radically revises this view, arguing that Hobbes never ceased to be a humanist. While previous scholars have made the case for Hobbes as humanist by looking to his use of rhetoric, Miller rejects the humanism/mathematics dichotomy altogether and shows us the humanist face of Hobbes's affinity for mathematical learning and practice. He thus reconnects Hobbes with the humanists who admired and cultivated mathematical learning—and with the material fruits of Great Britain's mathematical practitioners. The result is a fundamental recasting of Hobbes's project, a recontextualization of his thought within early modern humanist pedagogy and the court culture of the Stuart regimes. Mortal Gods stands as a new challenge to contemporary political theory and its settled narratives concerning politics, rationality, and violence.
Contents
Acknowledgments
1 Introduction
2 The Humanist Face of Hobbes's Mathematics, Part 1
3 Constraints That Enable the Imitation of God
4 King of the Children of Pride: The Imitation of God in Context
5 Architectonic Ambitions: Mathematics and the Demotion of Physics
6 Eloquence and the Audience Thesis
7 All Other Doctrines Exploded: Hobbes, History, and the Struggle over Teaching
8 The Humanist Face of Hobbes's Mathematics, Part 2: Leviathan and the Making of a Masque-Text
9 Conclusion
Appendix: Who Is a Geometer?
Notes
Bibliography
Index