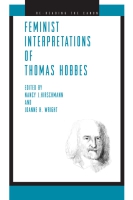 Feminist Interpretations of Thomas Hobbes
Copyright: 2012
Dimensions: 6 x 9
Page Count: 312 pages
Hardcover ISBN: 978-0-271-05635-7
Paperback ISBN: 978-0-271-05636-4
Series Name: Re-Reading the Canon
Hardcover Edition: $82.95
Paperback Edition: $33.95
---
Feminist Interpretations of Thomas Hobbes features the work of feminist scholars who are centrally engaged with Hobbes's ideas and texts and who view Hobbes as an important touchstone in modern political thought. Bringing together scholars from the disciplines of philosophy, history, political theory, and English literature who embrace diverse theoretical and philosophical approaches and a range of feminist perspectives, this interdisciplinary collection aims to appeal to an audience of Hobbes scholars and nonspecialists alike.
As a theorist whose trademark is a compelling argument for absolute sovereignty, Hobbes may seem initially to have little to offer twenty-first-century feminist thought. Yet, as the contributors to this collection demonstrate, Hobbesian political thought provides fertile ground for feminist inquiry. Indeed, in engaging Hobbes, feminist theory engages with what is perhaps the clearest and most influential articulation of the foundational concepts and ideas associated with modernity: freedom, equality, human nature, authority, consent, coercion, political obligation, and citizenship.
Aside from the editors, the contributors are Joanne Boucher, Karen Detlefsen, Karen Green, Wendy Gunther-Canada, Jane S. Jaquette, S. A. Lloyd, Su Fang Ng, Carole Pateman, Gordon Schochet, Quentin Skinner, and Susanne Sreedhar.
Contents
Preface
Nancy Tuana
Acknowledgments
Introduction: The Many Faces of "Mr. Hobs"
Joanne H. Wright and Nancy J. Hirschmann
1 Hobbes, History, Politics, and Gender: A Conversation with Carole Pateman and Quentin Skinner
Conducted by Nancy J. Hirschmann and Joanne H. Wright
Part 1 Classic Questions, New Approaches
2 Power and Sexual Subordination in Hobbes's Political Theory
S. A. Lloyd
3 Defending Liberal Feminism: Insights from Hobbes
Jane S. Jaquette
4 Hobbes and the Bestial Body of Sovereignty
Su Fang Ng
Part 2 The Gendered Politics of Gratitude, Contract, and the Family
5 Thomas Hobbes on the Family and the State of Nature (1967)
Gordon J. Schochet
6 Gordon Schochet on Hobbes, Gratitude, and Women
Nancy J. Hirschmann
Part 3 Hobbes and His(torical) Women
7 Margaret Cavendish and Thomas Hobbes on Freedom, Education, and Women
Karen Detlefsen
8 When Is a Contract Theorist Not a Contract Theorist? Mary Astell and Catharine Macaulay as Critics of Thomas Hobbes
Karen Green
9 Catharine Macaulay's "Loose Remarks" on Hobbesian Politics
Wendy Gunther-Canada
Part 4 Hobbes in the Twenty-First Century, or What Has Hobbes Done for You Lately?
10 Thomas Hobbes and the Problem of Fetal Personhood
Joanne Boucher
11 Choice Talk, Breast Implants, and Feminist Consent Theory: Hobbes's Legacy in Choice Feminism
Joanne H. Wright
12 Toward a Hobbesian Theory of Sexuality
Susanne Sreedhar
Notes on Contributors
Index