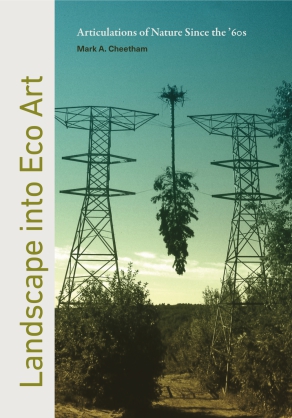 Landscape into Eco Art
Articulations of Nature Since the '60s
Mark Cheetham
COMING IN MARCH
Landscape into Eco Art
Articulations of Nature Since the '60s
Mark Cheetham
"Summarizing what is now a vast literature on environmentally engaged art, Mark Cheetham usefully historicizes landscape painting, land art, and eco art in Western traditions—and polemicizes against severing any of these artistic practices from landscape as such. Rather than make excuses for the centuries-old genre of landscape, Cheetham wants to use its encumbrances to reveal investments from the past. An essential contribution to urgent issues of the Anthropocene."
Description

Reviews

Bio

Subjects
Dedicated to an articulation of the earth from broadly ecological perspectives, eco art is a vibrant subset of contemporary art that addresses the widespread public concern with rapid climate change and related environmental issues. In
Landscape into Eco Art
, Mark Cheetham systematically examines connections and divergences between contemporary eco art, land art of the 1960s and 1970s, and the historical genre of landscape painting.
Through eight thematic case studies that illuminate what eco art means in practice, reception, and history, Cheetham places the form in a longer and broader art-historical context. He considers a wide range of media—from painting, sculpture, and photography to artists' films, video, sound work, animation, and installation—and analyzes the work of internationally prominent artists such as Olafur Eliasson, Nancy Holt, Mark Dion, and Robert Smithson. In doing so, Cheetham reveals eco art to be a dynamic extension of a long tradition of landscape depiction in the West that boldly enters into today's debates on climate science, government policy, and our collective and individual responsibility to the planet.
An ambitious intervention into eco-criticism and the environmental humanities, this volume provides original ways to understand the issues and practices of eco art in the Anthropocene. Art historians, humanities scholars, and lay readers interested in contemporary art and the environment will find Cheetham's work valuable and invigorating.
"Summarizing what is now a vast literature on environmentally engaged art, Mark Cheetham usefully historicizes landscape painting, land art, and eco art in Western traditions—and polemicizes against severing any of these artistic practices from landscape as such. Rather than make excuses for the centuries-old genre of landscape, Cheetham wants to use its encumbrances to reveal investments from the past. An essential contribution to urgent issues of the Anthropocene."
"Landscape into Eco Art offers a much-needed art history of the Anthropocene. Landscape art is not merely a precursor to contemporary practices, however. Cheetham's 'preposterous' interpretive framing of eco art mobilizes fresh understandings of the landscape tradition in relation to Western industrialization. The case studies challenge the temptation to confine ecology to a political discourse. Instead, aesthetic history is borne out in a compelling rethinking of how ethical dilemmas spark a new artistic modus operandi. A rich and compelling read."
"A major contribution to the burgeoning discussion of ecology in the history of art, Landscape into Eco Art effectively cuts across a number of long-standing cul-de-sacs in late modern art scholarship by distilling debates from a truly expansive range of voices. Mark Cheetham's claims about the persistence of landscape in the production and analysis of contemporary art absorbs cutting-edge thinking about climate change while working through legacies of environmental art in both Europe and North America."
Mark A. Cheetham is Professor of Art History at the University of Toronto. His most recent books include Abstract Art Against Autonomy: Infection, Resistance, and Cure Since the 60s and Artwriting, Nation, and Cosmopolitanism in Britain: The "Englishness" of English Art Theory since the Eighteenth Century.
Mailing List
Subscribe to our mailing list and be notified about new titles, journals and catalogs.