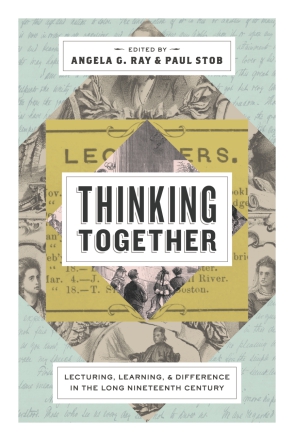 Thinking Together
Lecturing, Learning, and Difference in the Long Nineteenth Century
Edited by Angela G. Ray and Paul Stob
COMING IN MAY
Thinking Together
Lecturing, Learning, and Difference in the Long Nineteenth Century
Edited by Angela G. Ray and Paul Stob
"Thinking Together explores popular learning in the United States during the long nineteenth century through case studies of a broad multiplicity of lyceum speakers. Maintaining the particularity of each case, the volume vividly illustrates how distinct racial, ethnic, gender, and religious groups and individuals not only educated, but also constituted a sense of belonging while forging spiritual and political communities."
Description

Reviews

Bio

Subjects
Changes to the landscape of higher education in the United States over the past decades have urged scholars grappling with issues of privilege, inequality, and social immobility to think differently about how we learn and deliberate.
Thinking Together
is a multidisciplinary conversation about how people approached similar issues of lecturing, learning, and difference in the nineteenth century.
In the open air, in homes, in public halls, and even in prisons, people pondered recurring issues: justice, equality, careers, entertainment, war and peace, life and death, heaven and hell, the role of education, and the nature of humanity itself. Paying special attention to the dynamics of race and gender in intellectual settings, the contributors to this volume consider how myriad groups and individuals—many of whom lived on the margins of society and had limited access to formal education—developed and deployed knowledge useful for public participation and public advocacy around these concerns. Essays examine examples such as the women and men who engaged lecture culture during the Civil War; Irish immigrants who gathered to assess their relationship to the politics and society of the New World; African American women and men who used music and theater to challenge the white gaze; and settler-colonists in Liberia who created forums for envisioning a new existence in Africa and their relationship to a U.S. homeland. Taken together, this interdisciplinary exploration shows how learning functioned not only as an instrument for public action but also as a way to forge meaningful ties with others and to affirm the value of an intellectual life.
By highlighting people, places, and purposes that diversified public discourse, Thinking Together offers scholars across the humanities new insights and perspectives on how difference enhances the human project of thinking together.
"Thinking Together explores popular learning in the United States during the long nineteenth century through case studies of a broad multiplicity of lyceum speakers. Maintaining the particularity of each case, the volume vividly illustrates how distinct racial, ethnic, gender, and religious groups and individuals not only educated, but also constituted a sense of belonging while forging spiritual and political communities."
"A highly original collection that introduces readers not only to diversity in subjects and approaches but also to the commonalities in aspiration and pleasure. Contributors do justice to both in essays ranging from a lyceum in Liberia to meetings of soldiers imprisoned during the Civil War to immigrants on Manhattan's Lower East Side."
"In an era when we desperately need new ideas for reviving public deliberation, this interdisciplinary collection reminds us of a time when creative activists experimented with new ways to advance learning and promote moral and intellectual enlightenment. Extending beyond the lyceum movement, the volume recalls forums that empowered people excluded from formal education not only to speak, listen, and learn, but also to 'think together' about the crucial political and social issues of the day."
"This collection calls attention to nineteenth-century contexts where unconventional modes of education were employed and exposes readers to alternative ways of thinking together, presented from multiple disciplinary perspectives. By looking at groups and individuals in a variety of settings, including lecturers, platform entertainers, journalists, and religious leaders, Thinking Together offers new ways to understand how we learn from one another."
"Lecture platforms such as the lyceum were the true 'social media' of the nineteenth century, forging communities in pursuit of common understanding, insight, and wisdom. Ray and Stob have collected studies showing that the cultural practices of platform culture were robust even in the face of social disruption and among marginalized as well as mainstream populations. Each essay displays exemplary scholarship; together they illumine a vital but often neglected dimension of nineteenth-century public culture."
Angela G. Ray is Associate Professor of Communication Studies at Northwestern University and the author of The Lyceum and Public Culture in the Nineteenth-Century United States.
Paul Stob is Associate Professor of Communication Studies at Vanderbilt University and the author of William James and the Art of Popular Statement.
Mailing List
Subscribe to our mailing list and be notified about new titles, journals and catalogs.