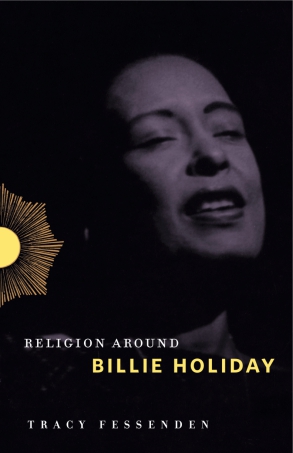 Religion Around Billie Holiday
Tracy Fessenden
COMING IN APRIL
Religion Around Billie Holiday
Tracy Fessenden
"With beautiful prose and nuanced analysis, Fessenden navigates the reader through the religious landscape that shaped Holiday's life and career and tunes our ear to listen for how the soundscape and spirituality of those religious sources shaped her artistry. What emerges is a rich and compelling portrait at the intersection of Holiday's personal history, American Catholicism, blues and jazz culture, and the currents of race and gender in American life."
Description

Reviews

Bio

Subjects
Soulful jazz singer Billie Holiday is remembered today for her unique sound, troubled personal history, and a catalogue that includes such resonant songs as "Strange Fruit" and "God Bless the Child." Holiday and her music were also strongly shaped by religion, often in surprising ways.
Religion Around Billie Holiday
examines the spiritual and religious forces that left their mark on the performer during her short but overwhelmingly influential life.
Mixing elements of biography with the history of race and American music, Fessenden explores the multiple religious influences on Holiday's life and sound, including her time spent as a child in a Baltimore convent, the echoes of black Southern churches in the blues she encountered in brothels, the secular riffs on ancestral faith in the poetry of the Harlem Renaissance, and the Jewish songwriting culture of Tin Pan Alley. Fessenden looks at the vernacular devotions scholars call lived religion⎯the Catholicism of the streets, the Jewishness of the stage, the Pentecostalism of the roadhouse or the concert arena⎯alongside more formal religious articulations in institutions, doctrine, and ritual performance.
Insightful and compelling, Fessenden's study brings unexpected materials and archival voices to bear on the shaping of Billie Holiday's exquisite craft and indelible persona. Religion Around Billie Holiday illuminates the power and durability of religion in the making of an American musical icon.
"With beautiful prose and nuanced analysis, Fessenden navigates the reader through the religious landscape that shaped Holiday's life and career and tunes our ear to listen for how the soundscape and spirituality of those religious sources shaped her artistry. What emerges is a rich and compelling portrait at the intersection of Holiday's personal history, American Catholicism, blues and jazz culture, and the currents of race and gender in American life."
"Illuminating, graceful, insightful, and bold, Tracy Fessenden's marvelous interpretation of Billie Holiday is no mere biography. Religion Around Billie Holiday is an extension of, and improvisation on, the big questions shaping Fessenden's work. Holiday is not only, in Fessenden's imagination, an exemplary narrative subject. She also challenged the naturalization of American racial, gendered, and religious norms. Through her, Fessenden brilliantly shows us the fault lines in identity that were there all along, like more strange fruit."
Tracy Fessenden is the Steve and Margaret Forster Professor in the School of Historical, Philosophical, and Religious Studies at Arizona State University and the author of Culture and Redemption: Religion, the Secular, and American Literature.
Mailing List
Subscribe to our mailing list and be notified about new titles, journals and catalogs.