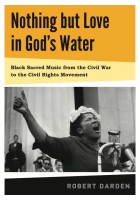 Nothing but Love in God's Water
Volume I: Black Sacred Music from the Civil War to the Civil Rights Movement
Copyright: 2014
Dimensions: 7 x 10
Page Count: 224 pages
Illustrations: 7 illustrations
Hardcover ISBN: 978-0-271-05084-3
Hardcover Edition: $34.95
Read a Publishers Weekly interview with Robert Darden
here
.
"The African American spiritual tradition long ago overflowed its cultural banks to become a wellspring for quintessentially American sacred and secular music. In Nothing but Love in God's Water, Robert Darden meticulously and mellifluously charts that flow from the origins of the spiritual as a balm against the pain of slavery to adaptation and repurposing as a means of empowering, uniting, and persevering in the struggle for civil rights. Darden offers an essential guide to the evolution of a tradition, the myriad springs, eddies, and crosscurrents that over centuries fed into the enduring river that is the legacy of African American sacred song."
"This book is absolutely brilliant! Part social history, part investigative reporting, and a lot of sound cultural analysis with a touch of theological reflection, this magnum opus illuminates the importance of black sacred music within the civil rights movement. Nothing but Love in God's Water reveals black sacred music as a liberating expression, a tool for liberation, and the most important chronicle of the liberation experience. Robert Darden's tome is accurate, well written, captivating, and full of insightful interpretations of the power of music within the African American experience."
"As Americans take to the streets in protest over the loss of African American lives in Ferguson, Baltimore, New York, and elsewhere, the power of the singing army cannot be overestimated. Although decades have passed since the Civil Rights movement of the Rev. Dr. Martin Luther King Jr. era, protesters are not turning to today's popular song canon to set their marching cadence. They are still singing the old standards, such as 'I Shall Not Be Moved,' and 'We Shall Overcome.' Like previous generations, they are harnessing the power of black sacred song to lift the spirit of the oppressed and turn the heart of the oppressor. Darden's book provides an eminently readable and consistently fascinating history of how this came to be."
The first of two volumes chronicling the history and role of music in the African American experience, Nothing but Love in God's Water explores how songs and singers helped African Americans challenge and overcome slavery, subjugation, and suppression. From the spirituals of southern fields and the ringing chords of black gospel to the protest songs that changed the landscape of labor and the cadences sung before dogs and water cannons in Birmingham, sacred song has stood center stage in the African American drama. Myriad interviews, one-of-a-kind sources, and rare or lost recordings are used to examine this enormously persuasive facet of the movement. Nothing but Love in God's Water explains the historical significance of song and helps us understand how music enabled the civil rights movement to challenge the most powerful nation on the planet.
Preface
Acknowledgements
Introduction
Chapter 1: The Spiritual: Beginnings and Context
Chapter 2: The Spirituals: Protest Songs
Interlude: The Protest Spirituals: From the Post Civil War Era Through the Great
Migration
Chapter 3: The Spirituals: "There is Power in the Union!"
Chapter 4: The Beginnings of the Modern Civil Rights Movement, the Influence of
Radio, and the Rise of Gospel Music
Chapter 5: Montgomery: Black Sacred Song in the Modern Civil Rights Movement