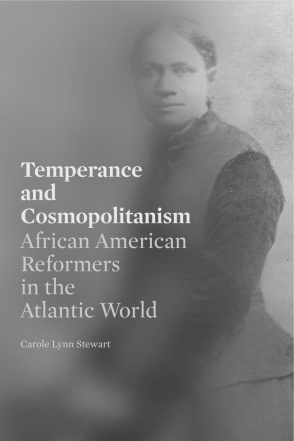 Temperance and Cosmopolitanism
African American Reformers in the Atlantic World
Carole Lynn Stewart
BUY
Temperance and Cosmopolitanism
African American Reformers in the Atlantic World
Carole Lynn Stewart
"This book speaks softly and carries a big wallop. Through precise readings and meticulous historical research, Stewart demonstrates that there was a common transnational epistemology uniting black reformers. Highly recommended."
Description

Reviews

Bio

Subjects
Temperance and Cosmopolitanism explores the nature and meaning of cosmopolitan freedom in the nineteenth century through a study of selected African American authors and reformers: William Wells Brown, Martin Delany, George Moses Horton, Frances E. W. Harper, and Amanda Berry Smith. Their voluntary travels, a reversal of the involuntary movement of enslavement, form the basis for a critical mode of cosmopolitan freedom rooted in temperance.
Both before and after the Civil War, white Americans often associated alcohol and drugs with blackness and enslavement. Carole Lynn Stewart traces how African American reformers mobilized the discourses of cosmopolitanism and restraint to expand the meaning of freedom—a freedom that draws on themes of abolitionism and temperance not only as principles and practices for the inner life but simultaneously as the ordering structures for forms of culture and society. While investigating traditional meanings of temperance consistent with the ethos of the Protestant work ethic, Enlightenment rationality, or asceticism, Stewart shows how temperance informed the founding of diasporic communities and civil societies to heal those who had been affected by the pursuit of excess in the transatlantic slave trade and the individualist pursuit of happiness.
By elucidating the concept of the "black Atlantic" through the lenses of literary reformers, Temperance and Cosmopolitanism challenges the narrative of Atlantic history, empire, and European elite cosmopolitanism. Its interdisciplinary approach will be of particular value to scholars of African American literature and history as well as scholars of nineteenth-century cultural, political, and religious studies.
"This book speaks softly and carries a big wallop. Through precise readings and meticulous historical research, Stewart demonstrates that there was a common transnational epistemology uniting black reformers. Highly recommended."
"Exploring a world torn by the foundational fractures forced by the system of slavery and racial control, Stewart uncovers a history of reform that challenges our understanding of place and mobility in African American history. She considers such writers as William Wells Brown, Martin Delany, George Moses Horton, Frances Harper, and Amanda Berry Smith, finding in their works a cosmopolitan determination to reorient American culture from the ground up. Anyone interested in African American literary and cultural history will want to read this important book."
"An original, nuanced, and theoretically robust work of scholarship that will quickly prove to be a tremendous addition to our understanding of race, religion, politics, and public life. Stewart critically reads the multiple languages and expressions of freedom as amalgams that form and inform the multiple meanings of the world and human experience. By deeply probing the complex contours of the temperance movement against the backdrop of the Atlantic world, Stewart adds rich texture and offers fresh perspectives on this protean international movement."
"In this study Carole Lynn Stewart shows how a group of enslaved, ex-enslaved, or fugitive African American women and men, through international travel, imaginative vision, and intellectual insight, critically expanded the practice and ideal of temperance from an individualistic, inner purity blind to the corruption of a civic order that tolerated slavery and enabled temperance to a serve as the vital basis for both the inward and societal meanings of freedom."
Carole Lynn Stewart is Associate Professor at Brock University and the author of Strange Jeremiahs: Civil Religion and the Literary Imaginations of Jonathan Edwards, Herman Melville, and W. E. B. Du Bois.
Mailing List
Subscribe to our mailing list and be notified about new titles, journals and catalogs.