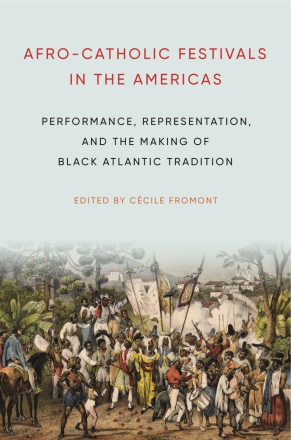 Afro-Catholic Festivals in the Americas
Performance, Representation, and the Making of Black Atlantic Tradition
Edited by Cécile Fromont
LEARN MORE
Afro-Catholic Festivals in the Americas
Performance, Representation, and the Making of Black Atlantic Tradition
Edited by Cécile Fromont
"A compelling collection of essays that map out the transplantation of Kongo and Central African Christian traditions in the Americas by exploring the crucial role African Christian festivals played in the Americas. This is a timely multidisciplinary text that invites readers to explore representation and performance expressed in ideas, music, and art deployed by Africans to assert the will to thrive in the context of domination and to forge a vibrant Christian presence and practice."
Description

Reviews

Bio

Subjects
This volume demonstrates how, from the beginning of the Atlantic slave trade, enslaved and free Africans in the Americas used Catholicism and Christian-derived celebrations as spaces for autonomous cultural expression, social organization, and political empowerment. Their appropriation of Catholic-based celebrations calls into question the long-held idea that Africans and their descendants in the diaspora either resignedly accepted Christianity or else transformed its religious rituals into syncretic objects of stealthy resistance.
In cities and on plantations throughout the Americas, men and women of African birth or descent staged mock battles against heathens, elected Christian queens and kings with great pageantry, and gathered in festive rituals to express their devotion to saints. Many of these traditions endure in the twenty-first century. The contributors to this volume draw connections between these Afro-Catholic festivals—observed from North America to South America and the Caribbean—and their precedents in the early modern kingdom of Kongo, one of the main regions of origin of men and women enslaved in the New World. This transatlantic perspective offers a useful counterpoint to the Yoruba focus prevailing in studies of African diasporic religions and reveals how Kongo-infused Catholicism constituted a site for the formation of black Atlantic tradition.
Afro-Catholic Festivals in the Americas complicates the notion of Christianity as a European tool of domination and enhances our comprehension of the formation and trajectory of black religious culture on the American continent. It will be of great interest to scholars of African diaspora, religion, Christianity, and performance.
In addition to the editor, the contributors include Kevin Dawson, Jeroen Dewulf, Junia Ferreira Furtado, Michael Iyanaga, Dianne M. Stewart, Miguel A. Valerio, and Lisa Voigt.
"A compelling collection of essays that map out the transplantation of Kongo and Central African Christian traditions in the Americas by exploring the crucial role African Christian festivals played in the Americas. This is a timely multidisciplinary text that invites readers to explore representation and performance expressed in ideas, music, and art deployed by Africans to assert the will to thrive in the context of domination and to forge a vibrant Christian presence and practice."
"This remarkable set of essays and their accompanying images bring to life the dynamic interactions of central Africa and the Americas as expressed in music, dance, artistic representation, and spirituality. It does not resolve the great debate over African continuities versus creole creativity, but it enriches and enlivens it and makes it fundamental to an understanding of the Atlantic world."
"This multidisciplinary study of acculturation participates in a turn in postcolonial studies away from questions of the imposition of Christianity to black reinvention."
Cécile Fromont is Associate Professor of History of Art at Yale University. She is also the author of the award-winning book The Art of Conversion: Christian Visual Culture in the Kingdom of Kongo.
Mailing List
Subscribe to our mailing list and be notified about new titles, journals and catalogs.