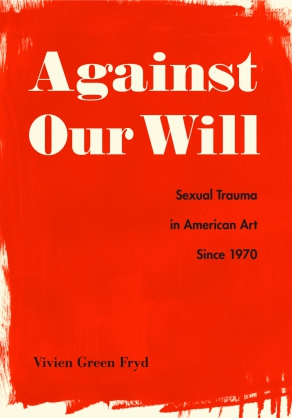 Against Our Will
Sexual Trauma in American Art Since 1970
Vivien Green Fryd
BUY
Against Our Will
Sexual Trauma in American Art Since 1970
Vivien Green Fryd
"Pairing trauma theory with detailed analysis of American art focused on sexual violence, Fryd's study is a timely and compelling contribution to ongoing conversations about the intersections of images and actions, art as social and political catalyst, and the impact of feminist thought in contemporary American culture." American Art of the 20th–21st Centuries
Media

Description

Reviews

Bio

Table of Contents

Subjects
Watch an interview with Vivien Green Fryd
here
.
As part of the feminist movement of the 1970s, female artists began consciously using their works to challenge social conceptions and the legal definitions of rape and incest and to shift the dominant narrative of violence against women. In this dynamic book, Vivien Green Fryd charts this decades-long radical intervention through an art-historical lens.
Fryd shows how American artists such as Suzanne Lacy, Leslie Labowitz, Faith Ringgold, Judy Chicago, and Kara Walker insisted on ending the silence surrounding sexual violence and helped construct an anti-rape, anti-incest counternarrative that remains vibrant today. She looks at how second-wave feminist artists established and reiterated the importance of addressing sexual violence against women and how their successors in the third wave then framed their works within that visual and rhetorical tradition. Throughout, Fryd highlights specific themes—rape and incest against white and black female bodies, rape against white and black male bodies, rape and pornography—that intersect with other challenges to and critiques of the sociocultural and political patriarchy from the 1970s through the present day.
Featuring dozens of illustrative works and written by an art historian who is a scholar of PTSD and herself a survivor, this groundbreaking and timely project explores sexual violence as a discrete subject of American art with open eyes and unflinching analysis. Against Our Will challenges the reader to serve as witness to the trauma in much the same way as the works Fryd studies.
"Pairing trauma theory with detailed analysis of American art focused on sexual violence, Fryd's study is a timely and compelling contribution to ongoing conversations about the intersections of images and actions, art as social and political catalyst, and the impact of feminist thought in contemporary American culture." American Art of the 20th–21st Centuries
Vivien Green Fryd is Professor of Art History at Vanderbilt University and the author of Art and Empire: The Politics of Ethnicity in the United States Capitol, 1815–1860 and Art and the Crisis of Marriage: Edward Hopper and Georgia O'Keeffe.
Contents
List of Illustrations
Acknowledgments
Introduction
Chapter 1 Suzanne Lacy and Leslie Labowitz: Performing the Anti-rape Cycle in the 1970s
Chapter 2 Performing the Anti-incest Cycle in the Los Angeles Woman's Building, 1977–1985
Chapter 3 Faith Ringgold: Quilting the Anti-rape and Anti-incest Cycle, 1972–1986
Chapter 4 Recirculating the Anti-rape and Anti-incest Cycle in Exhibitions, 1980–1993
Chapter 5 Judy Chicago and Donald Woodman: The Anti-rape and Anti-incest Cycle, 2001–2006
Chapter 6 Kara Walker: Creating a Third-Wave Anti-rape and Antiincest Cycle in Silhouettes, Videos, and Sculpture Since 1994
Chapter 7 Mapping and Chronicling the Anti-rape and Anti-incest Cycle into the Twenty-First Century
Notes
Bibliography
Index
Mailing List
Subscribe to our mailing list and be notified about new titles, journals and catalogs.