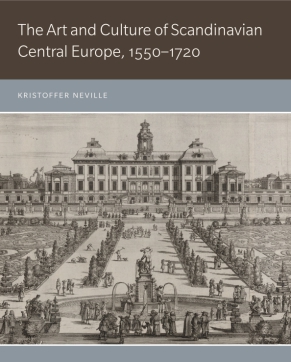 The Art and Culture of Scandinavian Central Europe, 1550–1720
Kristoffer Neville
BUY
The Art and Culture of Scandinavian Central Europe, 1550–1720
Kristoffer Neville
"Kristoffer Neville has given early modern scholars a gift. He has presented a major, if often invisible, core of northern Central Europe, Scandinavia, as a coherent and productive cultural center. This book offers history of the richest kind: political, religious, and visual culture. Neville deftly introduces us to unfamiliar castles and palaces, churches, and tombs as well as peripatetic Northern artists. All can now take their rightful place in early modern European art and architectural history, thanks to this revelatory volume."
Description

Reviews

Bio

Subjects
Politically and militarily powerful, early modern Scandinavia played an essential role in the development of Central European culture from the sixteenth to the eighteenth century. In this volume, Kristoffer Neville shows how the cultural ambitions of Denmark and Sweden were inextricably bound to those of other Central European kingdoms.
Tracing the visual culture of the Danish and Swedish courts from the Reformation to their eventual decline in the eighteenth century, Neville explains how and why they developed into important artistic centers. He examines major projects by figures largely unknown outside of Northern Europe alongside other, more canonical artists—including Cornelis Floris, Adriaen de Vries, and Johann Bernhard Fischer von Erlach—to propose a more coherent view of this part of Europe, one that rightly includes Scandinavia as a vital component.
The seventeenth century has long seemed a bleak moment in Central European culture. Neville's authoritative and unprecedented study does much to change this perception, showing that the arts did not die in the Reformation and Thirty Years' War but rather flourished in the Baltic region.
"Kristoffer Neville has given early modern scholars a gift. He has presented a major, if often invisible, core of northern Central Europe, Scandinavia, as a coherent and productive cultural center. This book offers history of the richest kind: political, religious, and visual culture. Neville deftly introduces us to unfamiliar castles and palaces, churches, and tombs as well as peripatetic Northern artists. All can now take their rightful place in early modern European art and architectural history, thanks to this revelatory volume."
"Kristoffer Neville's marvelous book explores the contributions of the often-battling kingdoms of Denmark and Sweden to early modern European art and court culture. Frequently overlooked as the far north, these realms were intricately tied with their Central European and Baltic neighbors through marriage, religion, trade, war, shared borders, and the movement of artists. Neville clearly charts the rich artistic heritage from Frederik II's Kronborg Castle to Queen Christina's collections to Nicodemus Tessin the Younger's ideal plans for Stockholm."
"In his beautiful and elegant book, Kristoffer Neville presents a new history of the architecture and art of the Scandinavian countries in the Renaissance and Baroque. Anyone who has been to the vast lands ruled by the kings and queens of Denmark and Sweden knows that this art is a revelation. Neville contributes here to a rewriting of Renaissance art, weaving together historical context and a close analysis of extraordinary objects. This is essential reading for students, scholars, and anyone interested in the diversity of early modern culture."
Kristoffer Neville is Associate Professor of Art History at the University of California, Riverside. He is the author of Nicodemus Tessin the Elder: Architecture in Sweden in the Age of Greatness and coeditor of Queen Hedwig Eleonora and the Arts: Court Culture in Seventeenth-Century Northern Europe.
Mailing List
Subscribe to our mailing list and be notified about new titles, journals and catalogs.