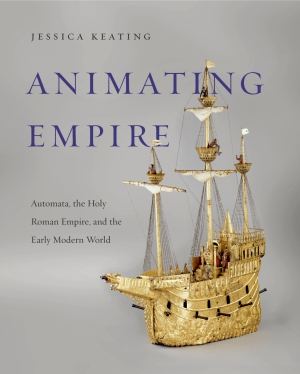 Animating Empire
Automata, the Holy Roman Empire, and the Early Modern World
Jessica Keating
COMING IN APRIL
Animating Empire
Automata, the Holy Roman Empire, and the Early Modern World
Jessica Keating
"This book, presenting the 'curiosities' that we now call automata, unwinds a large network of interconnected early modern phenomena: the fraught world of religious contests, augmented by intense political rivalries; the connections between court centers of power, including connections between Germany and faraway Istanbul and Delhi; and the origins of early princely collecting in 'curiosity cabinets.' Here art and nature rivaled each other yet intertwined through technology and craftsmanship, powered by Augsburg watchmakers. Keating's meticulous research newly restores a nearly vanished art form to its rightful place—as the bearer of cultural values and courtly prestige at the very heart of ceremonial court performances. In the process, she arouses our own fascination, echoing those responses to privileged displays by these moving metal devices as they performed before early modern monarchs."
Description

Reviews

Bio

Subjects
In the sixteenth and seventeenth centuries, German clockwork automata were collected, displayed, and given as gifts throughout the Holy Roman, Ottoman, and Mughal Empires. In
Animating Empire
, Jessica Keating recounts the lost history of six such objects and reveals the religious, social, and political meaning they held.
The intricate gilt, silver, enameled, and bejeweled clockwork automata, almost exclusively crafted in the city of Augsburg, represented a variety of subjects in motion, from religious figures to animals. Their movements were driven by gears, wheels, and springs painstakingly assembled by clockmakers. Typically wound up and activated by someone in a position of power, these objects and the theological and political arguments they made were highly valued by German-speaking nobility. They were often given as gifts and as tribute payment, and they played remarkable roles in the Holy Roman Empire, particularly with regard to courtly notions about the important early modern issues of universal Christian monarchy, the Reformation, the Counter-Reformation, the encroachment of the Ottoman Empire, and global trade.
Demonstrating how automata produced in the Holy Roman Empire spoke to a convergence of historical, religious, and political circumstances, Animating Empire is a fascinating analysis of the animation of inanimate matter in the early modern period. It will appeal especially to art historians and historians of early modern Europe.
E-book editions have been made possible through support of the Art History Publication Initiative (AHPI), a collaborative grant from the Andrew W. Mellon Foundation.
"This book, presenting the 'curiosities' that we now call automata, unwinds a large network of interconnected early modern phenomena: the fraught world of religious contests, augmented by intense political rivalries; the connections between court centers of power, including connections between Germany and faraway Istanbul and Delhi; and the origins of early princely collecting in 'curiosity cabinets.' Here art and nature rivaled each other yet intertwined through technology and craftsmanship, powered by Augsburg watchmakers. Keating's meticulous research newly restores a nearly vanished art form to its rightful place—as the bearer of cultural values and courtly prestige at the very heart of ceremonial court performances. In the process, she arouses our own fascination, echoing those responses to privileged displays by these moving metal devices as they performed before early modern monarchs."
"German clockwork automata are mechanical marvels which, with the winding of a key, come alive to entertain as they dance in place or wheel across a table. Jessica Keating propels us through the fascinating history of these engineering masterpieces. As she lucidly explains, these are much more than luxurious toys."
Jessica Keating is Assistant Professor of Art History at Carleton College.
Mailing List
Subscribe to our mailing list and be notified about new titles, journals and catalogs.