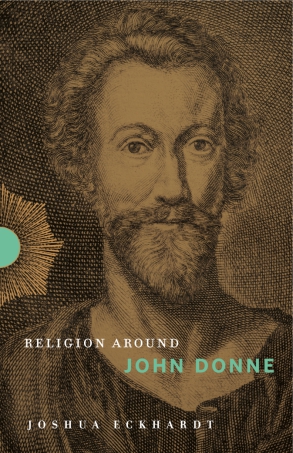 Religion Around John Donne
Joshua Eckhardt
BUY
Religion Around John Donne
Joshua Eckhardt
"A tour de force. Weaving together close reading, reception study, and book history, this volume sheds new light on Donne's writing, its readers, and the complex landscape of early modern religious belief and practice. Expertly navigating archival sources, Eckhardt follows Donne's works as they travel through a world of religious communion and division, generating and participating in conversations that are as compelling now as they were in the sixteenth and seventeenth centuries."
Description

Reviews

Bio

Table of Contents

Subjects
In this volume, Joshua Eckhardt examines the religious texts and books that surrounded the poems, sermons, and inscriptions of the early modern poet and preacher John Donne. Focusing on the material realities legible in manuscripts and
Sammelbände
, bookshops and private libraries, Eckhardt uncovers the myriad ways in which Donne's writings were received and presented, first by his contemporaries, and later by subsequent readers of his work.
Eckhardt sheds light on the religious writings with which Donne's work was linked during its circulation, using a bibliographic approach that also informs our understanding of his work's reception during the early modern period. He analyzes the religious implications of the placement of Donne's poem "A Litany" in a library full of Roman Catholic and English prayer books, the relationship and physical proximity of Donne's writings to figures such as Sir Thomas Egerton and Izaak Walton, and the movements in later centuries of Donne's work from private owners to the major libraries that have made this study possible. Eckhardt's detailed research reveals how Donne's writings have circulated throughout history—and how religious readers, communities, and movements affected the distribution and reception of his body of work.
Centered on a place in time when distinct methods of reproduction, preservation, and circulation were used to negotiate a complex and sometimes dangerous world of confessional division, Religion Around John Donne makes an original contribution to Donne studies, religious history, book history, and reception studies.
"A tour de force. Weaving together close reading, reception study, and book history, this volume sheds new light on Donne's writing, its readers, and the complex landscape of early modern religious belief and practice. Expertly navigating archival sources, Eckhardt follows Donne's works as they travel through a world of religious communion and division, generating and participating in conversations that are as compelling now as they were in the sixteenth and seventeenth centuries."
"Besides providing new insights into the life and works of John Donne in the context of the religious disputes of his time, Religion Around John Donne shows how book history can be written in a scholarly and engaging way. Joshua Eckhardt provides absorbing and exemplary readings of material features in a rich variety of books connected to Donne."
"This study of the consummate poet and preacher of the late English Renaissance recovers a religious and literary culture profoundly embodied in the physical labors of scribes, printers, and bibliophile collectors. Here we encounter an intimate history of the material circumstances of knowledge in the premodern world—of paper, ink, and pen—down to the miracles of book preservation and the odds-breaking power of historic library collections to hold the Renaissance together in snapshot form."
"Religion Around John Donne brilliantly realizes the potential of its bibliographical approach. Its focus on the religious texts, in manuscript and print, that Donne and his contemporaries made, collected, and preserved yields fascinating new insights into the role played by religion in Donne's life and writing. Vividly written, perfectly paced, and beautifully clear, Religion Around John Donne will be of great interest and value to beginners and experts alike."
Joshua Eckhardt is Associate Professor of English at Virginia Commonwealth University.
Acknowledgments
Note on Texts and Conventions
Introduction
1. Religion Around Donne's Poems
in a Family Library
Interlude: Mirreus, Crants, and Graius Go
to the Library
2. Religious Works Around Donne's Inscriptions
3. Religious Verse Around Donne's Verse
4. Religious Prose Around Donne's Prose
5. Religious Books Around Donne's Works
Notes
Bibliography
Index
Mailing List
Subscribe to our mailing list and be notified about new titles, journals and catalogs.