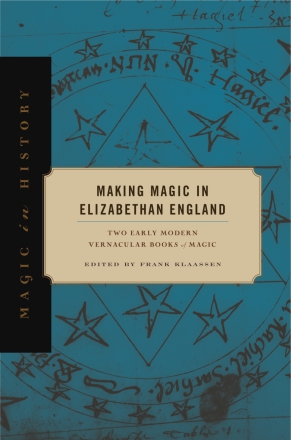 Making Magic in Elizabethan England
Two Early Modern Vernacular Books of Magic
Edited by Frank Klaassen
BUY
Making Magic in Elizabethan England
Two Early Modern Vernacular Books of Magic
Edited by Frank Klaassen
"Each of the two very different sixteenth-century texts edited here offers a panoramic view into its compiler's world; liberally enhanced with arcane diagrams, the texts are usefully contextualized by the notes and ancillary materials Klaassen provides. In addition to the general introduction, which is both learned and comfortably reader-friendly, each magic text has an individual introduction offering a finely tuned reading sensitive to the layering of sources and the complexity of the compiler's stance. Like all Klaassen's work, this book is meant to be enjoyed."
Description

Reviews

Bio

Subjects
This volume presents editions of two fascinating anonymous and untitled manuscripts of magic produced in Elizabethan England: the Antiphoner Notebook and the Boxgrove Manual. Frank Klaassen uses these texts, which he argues are representative of the overwhelming majority of magical practitioners, to explain how magic changed during this period and why these developments were crucial to the formation of modern magic.
The Boxgrove Manual is a work of learned ritual magic that synthesizes material from Henry Cornelius Agrippa, the Fourth Book of Occult Philosophy, Heptameron, and various medieval conjuring works. The Antiphoner Notebook concerns the common magic of treasure hunting, healing, and protection, blending medieval conjuring and charm literature with materials drawn from Reginald Scot's famous anti-magic work, Discoverie of Witchcraft. Klaassen painstakingly traces how the scribes who created these two manuscripts adapted and transformed their original sources. In so doing, he demonstrates the varied and subtle ways in which the Renaissance, the Reformation, new currents in science, the birth of printing, and vernacularization changed the practice of magic.
Illuminating the processes by which two sixteenth-century English scribes went about making a book of magic, this volume provides insight into the wider intellectual culture surrounding the practice of magic in the early modern period.
"Each of the two very different sixteenth-century texts edited here offers a panoramic view into its compiler's world; liberally enhanced with arcane diagrams, the texts are usefully contextualized by the notes and ancillary materials Klaassen provides. In addition to the general introduction, which is both learned and comfortably reader-friendly, each magic text has an individual introduction offering a finely tuned reading sensitive to the layering of sources and the complexity of the compiler's stance. Like all Klaassen's work, this book is meant to be enjoyed."
"Those studying the history of magic want not only to look at historical books of magic that were important to practitioners, but also to the contexts in which these books were produced, circulated, and held suspect. Frank Klaassen gives excellent access to both texts and context with this edition of two particularly fascinating books. The Antiphoner Notebook and the Boxgrove Manual were produced at roughly the time of Shakespeare, and the magicians who compiled them might well have served as models for one of his characters. This expertly produced volume will be of great interest to historians and to anyone interested in early modern English culture."
"With this meticulous and readable edition, Klaassen excavates the world of early modern magic through a pair of grubby manuscripts. This is a perfect introduction to the history of magic."
Frank Klaassen is Associate Professor of History at the University of Saskatchewan. His recent publications include the award-winning book The Transformations of Magic: Illicit Learned Magic in the Later Middle Ages and Renaissance, also published by Penn State University Press.
Mailing List
Subscribe to our mailing list and be notified about new titles, journals and catalogs.