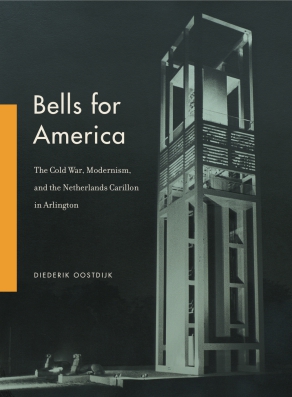 Bells for America
The Cold War, Modernism, and the Netherlands Carillon in Arlington
Diederik Oostdijk
LEARN MORE
Bells for America
The Cold War, Modernism, and the Netherlands Carillon in Arlington
Diederik Oostdijk
"For my country, the Netherlands Carillon is a symbol of gratitude for the role the U.S. played during and after World War II. It's a beacon of the lasting friendship between our countries that goes back more than four hundred years. Studying the origin of the carillon serves as a constant reminder that we need to cherish this relationship, and I welcome the effort Diederik Oostdijk undertook to shine new light on this historic monument that stands tall over Washington, D.C."
Description

Reviews

Bio

Table of Contents

Subjects
The Netherlands Carillon stands out in the American memorial landscape. Situated between Arlington National Cemetery and the Marine Corps War Memorial, the modernist design of this 127-foot steel bell tower is strangely at odds with its surroundings, much in the same way that its prominent place is at odds with its absence in American memory. In this book, Diederik Oostdijk reveals the intriguing history of this major monument hidden in plain sight.
Given to the United States in the 1950s by the Dutch government as a gesture of gratitude for America's role in the Dutch liberation during World War II and for the Marshall Plan aid that helped rebuild the Dutch economy, the carillon owes its conspicuous placement to the Cold War. Oostdijk traces the history of this monument, from its creation and the pageantry surrounding its presentation through its fall into disrepair and plans for its renewal. In so doing, he resolves the paradox of the carillon's placement in Arlington and unearths a fascinating and compelling story of diplomacy and humanity.
Interweaving art history, campanology, landscape architecture, literature, musicology, and diplomatic history, Bells for America recounts how the Netherlands and the United States reconstructed their national identities and fostered an international relationship in the postwar era through public art.
"For my country, the Netherlands Carillon is a symbol of gratitude for the role the U.S. played during and after World War II. It's a beacon of the lasting friendship between our countries that goes back more than four hundred years. Studying the origin of the carillon serves as a constant reminder that we need to cherish this relationship, and I welcome the effort Diederik Oostdijk undertook to shine new light on this historic monument that stands tall over Washington, D.C."
"A fascinating story of a monument hidden in plain sight. It is as a work of writing that the book stands out—a work of feeling. Bells for America is a meditation on human society, on its failures and blunders and hopes. Almost always inharmonious, such a society still dreams of making perfect sounds."
Diederik Oostdijk is Professor of English Literature at Vrije Universiteit Amsterdam. He is the author of Among the Nightmare Fighters: American Poets of World War II and coeditor of Tales of the Great American Victory: World War II Politics and Poetics.
List of Illustrations
Acknowledgments
Introduction: Forestroke
1. Bells for America
2. The Smallest Bell (1952)
3. Casting the Carillon (1954)
4. A Modernist Tower on the Monumental Axis (1960)
5. A Cold War Relic (1995)
Conclusion: The Echo of Dissonance
Notes
Bibliography
Index
Mailing List
Subscribe to our mailing list and be notified about new titles, journals and catalogs.