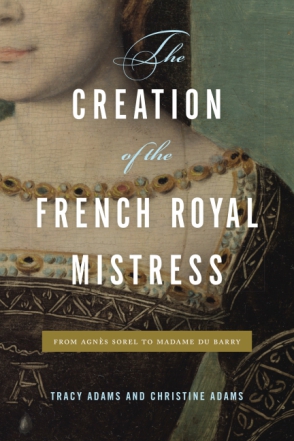 The Creation of the French Royal Mistress
From Agnès Sorel to Madame Du Barry
Tracy Adams and Christine Adams
BUY
The Creation of the French Royal Mistress
From Agnès Sorel to Madame Du Barry
Tracy Adams and Christine Adams
"With this excellent and seamlessly coauthored study, Christine and Tracy Adams delve into the creation of the post of the royal significant other—an often overlooked category of premodern female power and influence. They move beyond the salacious to an intellectual understanding of the complementarity of gendered premodern political power."
Description

Reviews

Bio

Table of Contents

Subjects
Kings throughout medieval and early modern Europe had extraconjugal sexual partners. Only in France, however, did the royal mistress become a quasi-institutionalized political position. This study explores the emergence and development of the position of French royal mistress through detailed portraits of nine of its most significant incumbents: Agnès Sorel, Anne de Pisseleu d'Heilly, Diane de Poitiers, Gabrielle d'Estrées, Françoise Louise de La Baume Le Blanc, Françoise Athénaïs de Rochechouart de Mortemart, Françoise d'Aubigné, Jeanne-Antoinette Poisson, and Jeanne Bécu.
Beginning in the fifteenth century, key structures converged to create a space at court for the royal mistress. The first was an idea of gender already in place: that while women were legally inferior to men, they were men's equals in competence. Because of their legal subordinacy, queens were considered to be the safest regents for their husbands, and, subsequently, the royal mistress was the surest counterpoint to the royal favorite. Second, the Renaissance was a period during which people began to experience space as theatrical. This shift to a theatrical world opened up new ways of imagining political guile, which came to be positively associated with the royal mistress. Still, the role had to be activated by an intelligent, charismatic woman associated with a king who sought women as advisors. The fascinating particulars of each case are covered in the chapters of this book.
Thoroughly researched and compellingly narrated, this important study explains why the tradition of a politically powerful royal mistress materialized at the French court, but nowhere else in Europe. It will appeal to anyone interested in the history of the French monarchy, women and royalty, and gender studies.
"With this excellent and seamlessly coauthored study, Christine and Tracy Adams delve into the creation of the post of the royal significant other—an often overlooked category of premodern female power and influence. They move beyond the salacious to an intellectual understanding of the complementarity of gendered premodern political power."
"Intensively researched and engagingly written, this innovative work traces the history of the royal mistress in France, demonstrating her impressive social, political, and cultural influence. The book examines the development of this unique position, which was a counterpart (and rival) to that of the queen—ultimately arguing that Marie Antoinette fell by trying to play the traditional roles of both queen and mistress, rocking the foundations of French queenship and the court itself."
"At last, a scholarly academic book on French royal mistresses, extensive in its coverage from Agnès Sorel to Du Barry, and one that can be used with confidence in teaching this subject in courses on women in power and the development of courtly politics in the early modern period. A comparative analytical discussion of the uses of 'soft power' by nonroyal women at the French court is long overdue."
"The extraordinary position of the 'official' mistress (maîtresse en titre) of reigning kings of France—from Agnes Sorel in the fifteenth century to Mesdames de Pompadour and du Barry in the eighteenth—is Christine and Tracy Adams's focus in this scholarly and illuminating study. They do full justice to the post's colorful incumbents, who casually broke their age's gender conventions, but also brilliantly highlight the persistent and multifaceted ways—sexual partner, political adviser, patronage hub, diplomatic back channel, cultural patron, ostentatious fashion adornment—in which these women served the monarchy."
Tracy Adams is Professor of French in the School of Cultures, Languages and Linguistics at the University of Auckland. She is the author of three books, including Christine de Pizan and the Fight for France, also published by Penn State University Press.
Christine Adams is Professor of History at St. Mary's College of Maryland. She is the author or coeditor of four books, including A Taste for Comfort and Status: A Bourgeois Family in Eighteenth-Century France, also published by Penn State University Press.
Acknowledgments
Introduction: What Was It About France?
1. The Beginning of a Tradition: Agnès Sorel
2. A Tradition Takes Hold: Anne de Pisseleu d'Heilly
3. Diane de Poitiers: Epitome of the French Royal Mistress
4. Gabrielle d'Estrées: Never the Twain Shall Meet
5. The Mistresses of the Sun King: La Vallière, Montespan, Maintenon
6. Tearing the Veil: Pompadour and Du Barry
Epilogue: Mistress-Queen and the End of a Tradition: Marie Antoinette
Notes
Bibliography
Index
Mailing List
Subscribe to our mailing list and be notified about new titles, journals and catalogs.