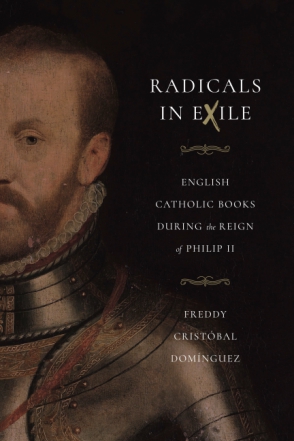 Radicals in Exile
English Catholic Books During the Reign of Philip II
Freddy Cristóbal Domínguez
BUY
Radicals in Exile
English Catholic Books During the Reign of Philip II
Freddy Cristóbal Domínguez
"Skillfully researched and written with enviable clarity, Freddy Domínguez's Radicals in Exile explores in detail a series of texts English Catholics wrote from Spain during the dramatic years of the 1580s and '90s. His readings of these works are original and illuminating, and they integrate this singular corpus into the wider religious and intellectual history of the period."
Description

Reviews

Bio

Table of Contents

Subjects
Facing persecution in early modern England, some Catholics chose exile over conformity. Some even cast their lot with foreign monarchs rather than wait for their own rulers to have a change of heart. This book studies the relationship forged by English exiles and Philip II of Spain. It shows how these expatriates, known as the "Spanish Elizabethans," used the most powerful tools at their disposal—paper, pens, and presses—to incite war against England during the "messianic" phase of Philip's reign, from the years leading up to the Grand Armada until the king's death in 1598.
Freddy Cristóbal Domínguez looks at English Catholic propaganda within its international and transnational contexts. He examines a range of long-neglected polemical texts, demonstrating their prominence during an important moment of early modern politico-religious strife and exploring the transnational dynamic of early modern polemics and the flexible rhetorical approaches required by exile. He concludes that while these exiles may have lived on the margins, their books were central to early modern Spanish politics and are key to understanding the broader narrative of the Counter-Reformation.
Deeply researched and highly original, Radicals in Exile makes an important contribution to the study of religious exile in early modern Europe. It will be welcomed by historians of early modern Iberian and English politics and religion as well as scholars of book history.
"Skillfully researched and written with enviable clarity, Freddy Domínguez's Radicals in Exile explores in detail a series of texts English Catholics wrote from Spain during the dramatic years of the 1580s and '90s. His readings of these works are original and illuminating, and they integrate this singular corpus into the wider religious and intellectual history of the period."
"This book puts the punch back into early modern religious polemic. Radical English Catholic exiles deftly bob and weave across the pages with hired-gun Protestant apologists. London swings at Madrid, Madrid jabs back at London, while Rome, Paris, and Antwerp stand by, eager to climb into the ring. The many contenders in this post-Reformation prizefight in print yield refreshingly unfamiliar viewpoints, internecine agendas, and a dynamic polyglot literature that has been too often overlooked."
Freddy Cristóbal Domínguez is Assistant Professor of History at the University of Arkansas.
Acknowledgments
Introduction
Part I: History in Action
1. The Radicalization of Exile Polemic
2. Calling the Armada
3. English History Made Spanish
Conclusion to Part I
Part II: The King's Men
4. English Voices in Spain
5. An Anglo-Spanish Voice in Europe
6 Between "English" Providentialism and Reason of State
Conclusion to Part II
Part III: (Habsburg) England and Spain Reformed
7. Politics of Succession
8. Practical Politics and Christian Reason of State
Conclusion to Part III
Conclusion
Notes
Bibliography
Index
Mailing List
Subscribe to our mailing list and be notified about new titles, journals and catalogs.