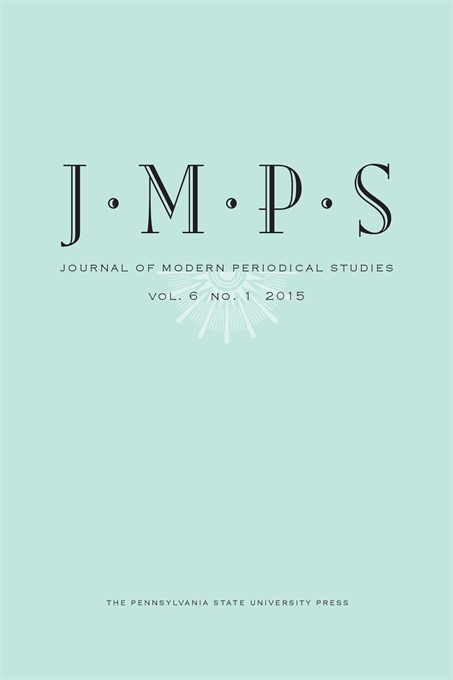 Journal of Modern Periodical Studies
Matthew Levay, Editor
Elizabeth Sheehan, Editor
SUBSCRIBE / RENEW
Journal of Modern Periodical Studies
Matthew Levay, Editor
Elizabeth Sheehan, Editor
Description

Board

Submissions

Pricing

Indexing
The Journal of Modern Periodical Studies is a peer-reviewed scholarly journal devoted to the academic study of modern periodicals—by which we mean periodicals published roughly in the period from 1880 to 1950, whether they are aggressively modernist or anti-modernist, popular or elite, mass circulation or specialized, long-lasting or brief. Daily newspapers, weeklies, monthlies, quarterlies, and irregularly published little magazines are all part of the field covered by this journal. The journal publishes full-length articles, shorter notes and comments, bibliographies, biographical essays, reviews of books, digital projects, research archives, and other such significant scholarly resources.
Editors
Matthew Levay, Idaho State University, US
Elizabeth Sheehan, The Ohio State University, US
Managing Editor
Alison Cummins, The Ohio State University, US
Book Review Editor
Nissa Ren Cannon, Stanford University, US
Editorial Board
Ann Ardis, George Mason University, US
Laurel Brake, University of London, UK
Peter Brooker, The University of Nottingham, UK
Mary Chapman, University of British Columbia, CA
Suzanne W. Churchill, Davidson College, US
Lucy Delap, University of Cambridge, UK
Laura Marcus, University of Oxford, UK
Adam McKible, John Jay College of Criminal Justice, US
Paul Peppis, University of Oregon, US
Christopher Reed, The Pennsylvania State University, US
Benoît Tadié, Université Rennes 2 Haute Bretagne, FR
Andrew Thacker, Nottingham Trent University, UK
All manuscripts must be submitted electronically at http://www.editorialmanager.com/JMPS/. Authors should submit article manuscripts (of 6,000-8,000 words), note manuscripts (up to 4,000 words), or review manuscripts (up to 2,000 words) styled according to the most recent edition of the Chicago Manual of Style. All visual images should be TIFF, EPS, or JPEG files, scanned at 300 dpi or greater resolution to a size appropriate for a journal page.
The Review Editor, (ncannon@stanford.edu), should be consulted before submitting a review or review essay. Reviewers may consider not only books, but also exhibitions, digital sites, editions, and other materials of direct interest to the journal's primary field of interest.
The author is responsible for obtaining all necessary copyright permissions and paying any requisite fees the use of any visual or textual materials used in his or her submission.
Institutional Print & Online - $288.00
Institutional Print or Online - $204.00
Institutional Single Issue - $108.00
Individual Print & Online - $75.00
Individual Print or Online - $54.00
Individual Single Issue - $34.00
Outside US add Shipping & Handling - $12.00
Emerging Sources Citation Index
European Reference Index for the Humanities and Social Sciences (ERIH PLUS)
IBZ
MLA International Bibliography
SCOPUS