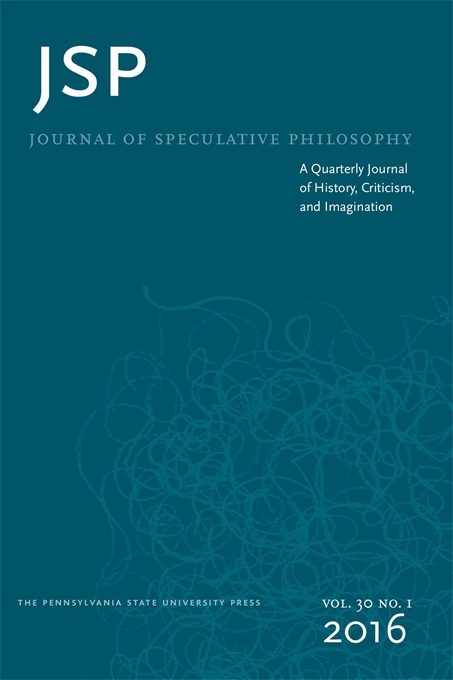 Journal of Speculative Philosophy
SUBSCRIBE / RENEW
Journal of Speculative Philosophy
Description

Board

Submissions

Pricing

Indexing
"[T]his journal is unique in contemporary philosophy. It provides a place where ideas that follow no one school or doctrine can appear on the fundamental and traditional questions of philosophy. In my view it keeps alive what real philosophy is all about." —Donald Phillip Verene, Emory University
"[T]he premier place for systematic philosophic essays in the United States." —Robert C. Neville, Boston University
The Journal of Speculative Philosophy publishes systematic and interpretive essays about basic philosophical questions. Scholars examine the constructive interaction between Continental and American philosophy, as well as novel developments in the ideas and theories of past philosophers that have relevance for contemporary thinkers. The journal also features discussions of art, religion, and literature that are not strictly or narrowly philosophical.
Editor
John J. Stuhr, Department of Philosophy, Emory University
Consulting Editor
Vincent M. Colapietro, Department of Philosophy, The Pennyslvania State University
Assistant Editor
Mark Fagiano, Department of Philosophy, University of Central Florida
Editorial Board
Amy Allen, The Pennsylvania State University
Alia Al-Saji, McGill University
Karl-Otto Apel, Johann Wolfgang Goethe Universität
Robert Bernasconi, The Pennsylvania State University
Richard Bernstein, New School University
Megan Craig, State University of New York, Stony Brook University
Miguel de Beistegui, University of Warwick
William J. Gavin, Unversity of Southern Maine
Russell Goodman, University of New Mexico
Jennifer Hansen, St. Lawrence University
Leonard Harris, Purdue University
Glen Helman, Wabash College
David Hildebrand, University of Colorado, Denver
Christopher Hookway, University of Sheffield
Mark Johnson, University of Oregon
John Lachs, Vanderbilt University
Christopher P. Long, Michigan State University
John Lysaker, Emory University
John McDermott, Texas A&M University
Erin McKenna, Pacific Lutheran University
José Medina, Northwestern University
Klaus Oehler, Gottfried Wilhelm Leibniz University, Hannover
Kelly Oliver, Vanderbilt University
Lucius Outlaw, Vanderbilt University
Helmut Pape, Humboldt University zu Berlin
Gregory Pappas, Texas A&M University
Nikita Pokrovsky, National Research University Higher School of Economics
Sandra Rosenthal, Loyola University, New Orleans
John Russon, University of Guelph
Naoko Saito, University of Tokyo
Lucia Santaella, Sao Paulo Catholic University
Charles E. Scott, Vanderbilt University and The Pennsylvania State University
Richard Shusterman, Florida Atlantic University
Ellen Suckiel, University of California, Santa Cruz
Michael Sullivan, Emory University
Shannon Sullivan, University of North Carolina, Charlotte
Emil Visnovsky, Slovak Academy of Sciences
Sun Youzhong, Beijing Foreign Studies University
, Editor
, Consulting Editor
, Assistant Editor
SUBMISSIONS: If you would like to submit an article to Journal of Speculative Philosophy, please visit http://www.editorialmanager.com/jsp/ and create an author profile. The online system will guide you through the steps to upload your article for submission to the editorial office.
Institutional Print & Online - $233.00
Institutional Print or Online - $164.00
Institutional Single Issue - $46.00
Individual Print & Online - $86.00
Individual Print or Online - $62.00
Individual Single Issue - $21.00
Outside US add Shipping & Handling - $38.00
Arts & Humanities Citation Index
IBZ
MLA International Bibliography
SCOPUS