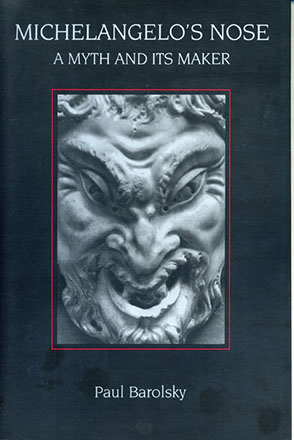 Michelangelo's Nose
A Myth and Its Maker
Paul Barolsky
Buy
Michelangelo's Nose
A Myth and Its Maker
Paul Barolsky
"What gives such sparkle to Barolsky's account is its constant movement to very diverse themes, which all are connected, still, with his central concern, Michelangelo's self-image and his art. So, when he discusses Hegel and Pater on art as self-expression, Montaigne's visit to Italy and his view of Socrates, Michelangelo's gift giving, and the relation of Michelangelo and Machiavelli to Pope Julius II—all these seemingly various themes take us back . . . to the Renaissance notion of the creation of an artistic persona and Barolsky's account of why that culture placed great value on this achievement."
Media

Description

Reviews

Bio

Subjects
1993 Honorable Mention, Phi Beta Kappa Book Award
An exploration of the ways in which Michelangelo created himself.
"What gives such sparkle to Barolsky's account is its constant movement to very diverse themes, which all are connected, still, with his central concern, Michelangelo's self-image and his art. So, when he discusses Hegel and Pater on art as self-expression, Montaigne's visit to Italy and his view of Socrates, Michelangelo's gift giving, and the relation of Michelangelo and Machiavelli to Pope Julius II—all these seemingly various themes take us back . . . to the Renaissance notion of the creation of an artistic persona and Barolsky's account of why that culture placed great value on this achievement."
"Barolsky's book has given us a compelling view of Michelangelo as a kind of proto-Romantic 'Ubermensch' participating in the often terrifying epic of his own creation."
Paul Barolsky is Commonwealth Professor of the History of Art at the University of Virginia. His books on Renaissance art with Penn State Press include The Faun in the Garden: Michelangelo and the Poetic Origins of Italian Renaissance Art (1994), Giotto's Father and the Family of Vasari's "Lives" (1992), and Why Mona Lisa Smiles and Other Tales by Vasari (1991).