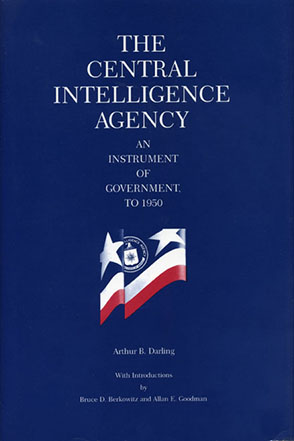 The Central Intelligence Agency
An Instrument of Government, to 1950
Arthur B. Darling, Introduced and Annotation by Bruce D. Berkowitz, and Allan E. Goodman
Buy
The Central Intelligence Agency
An Instrument of Government, to 1950
Arthur B. Darling, Introduced and Annotation by Bruce D. Berkowitz, and Allan E. Goodman
"The State Department, the Federal Bureau of Investigation and the military hampered the Central Intelligence Agency in its infancy by bickering about authority, according to a long-secret history of the agency's early years. The 1,000-page narrative, written in 1953 by the agency's first historian, Arthur B. Darling, is the first CIA document to be declassified and transferred to the National Archives for release to the public under the agency's historical review program."
Description

Reviews

Bio

Subjects
This unique history offers the most detailed and best documented account of the early years of the CIA currently available. It reveals the political and bureaucratic struggles that accompanied the creation of the modern U. S. intelligence community. In addition, it proposes a theory of effective intelligence organization, applied both to the movement to create the CIA and to the form it eventually took.
The period covered by this study was crucially important because it was during this time that the main battles over the establishment, responsibilities, and turf of the agency were fought. Many of these disputes framed the forty years, such as the relationship of the CIA to other government agency intelligence operations, the role of covert action, and Congressional oversight of the intelligence community.
The sources upon which Darling drew for this study include the files of the National Security Council, the wartime files of the OSS, and interviews and correspondence with many of the principal players.
"The State Department, the Federal Bureau of Investigation and the military hampered the Central Intelligence Agency in its infancy by bickering about authority, according to a long-secret history of the agency's early years. The 1,000-page narrative, written in 1953 by the agency's first historian, Arthur B. Darling, is the first CIA document to be declassified and transferred to the National Archives for release to the public under the agency's historical review program."
Arthur B. Darling taught American history at Yale University and Phillips Academy. From 1952 to 1954 he served as historian for the CIA.
Bruce D. Berkowitz has held various positions in the intelligence community and also served on the staff of the Senate Select Committee on Intelligence.
Allan E. Goodman, Associate Dean of the School of Foreign Service and Professor of International Affairs at Georgetown University, was employed by the CIA from 1975 to 1980, serving as Presidential Briefing Coordinator for the Director of Central Intelligence in 1979-1980.
Berkowitz and Goodman are the authors of Strategic Intelligence for American National Security (1989).