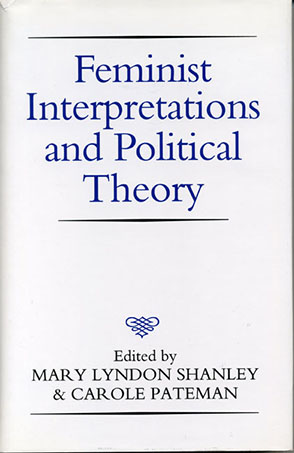 Feminist Interpretations and Political Theory
Edited by Mary Lyndon Shanley, and Edited by Carole Pateman
Buy
Feminist Interpretations and Political Theory
Edited by Mary Lyndon Shanley, and Edited by Carole Pateman
"While there are any number of volumes of collected essays on feminist theory, none is organized like this to take up, chronologically, the most significant writers of the Western tradition. Moreover, none, to my knowledge, brings together historically oriented essays of this quality. In short, it has no competition. The volume could also be used, extremely usefully, in any graduate or advanced undergraduate course on the Western tradition. It is a real gem."
Description

Reviews

Bio

Subjects
This volume brings together exciting and provocative new feminist readings of famous classic and contemporary texts from Plato to Habermas. The collection also includes examinations of the writings of Mary Wollstonecraft and Simone de Beauvoir that are usually excluded from the works conventionally held to comprise "Western political thought." The essays raise fundamentally important questions about the significance of sexual difference in the great works of political theory and draw attention to neglected arguments and silences in the texts. No single feminist view of either the texts or the theoretical way forward informs these essays. A wide diversity of feminist approaches and theoretical frameworks are represented, forming a rich variety of interpretations and argument about such questions as the patriarchal construction of central political categories, the relation between public and private life, and the problem of equality and difference, including differences among women.
This refreshing and stimulating collection will be indispensable for students of political thought and offers all those interested in the connection between the classic writings and current political discussions as accessible introduction to feminist argument.
"While there are any number of volumes of collected essays on feminist theory, none is organized like this to take up, chronologically, the most significant writers of the Western tradition. Moreover, none, to my knowledge, brings together historically oriented essays of this quality. In short, it has no competition. The volume could also be used, extremely usefully, in any graduate or advanced undergraduate course on the Western tradition. It is a real gem."
Mary Lyndon Shanley is Professor of Political Science at Vassar College and author of Feminism, Marriage, and the Law in Victorian England, 1850–1895 (1993).
Carole Pateman is Professor of Political Science at the University of California at Los Angeles; her books include The Sexual Contract (1988) and The Disorder of Women (1989).